Pros and Cons
Pros

Unique 7x7 grid layout
Features music from the famed Swedish band, HammerFall
Multiple engaging special features
Dynamic visuals & a vibrant colour palette
Cons

Complexity might be overwhelming for beginners
HammerFall Review
The HammerFall pokie is not your typical game. It stands out with its 7×7 grid layout, shifting away from traditional paylines and ways to win. Instead, it adopts the Cluster pays system, where players need clusters of 5 identical symbols connected vertically or horizontally to land a win. The visuals are sharp and modern, with vividly coloured icons and fluid animations.
The background art, featuring a towering knight and a castle, sets the medieval tone just right. You can enjoy this pokie on various devices and even give it a spin for free at Casombie Casino.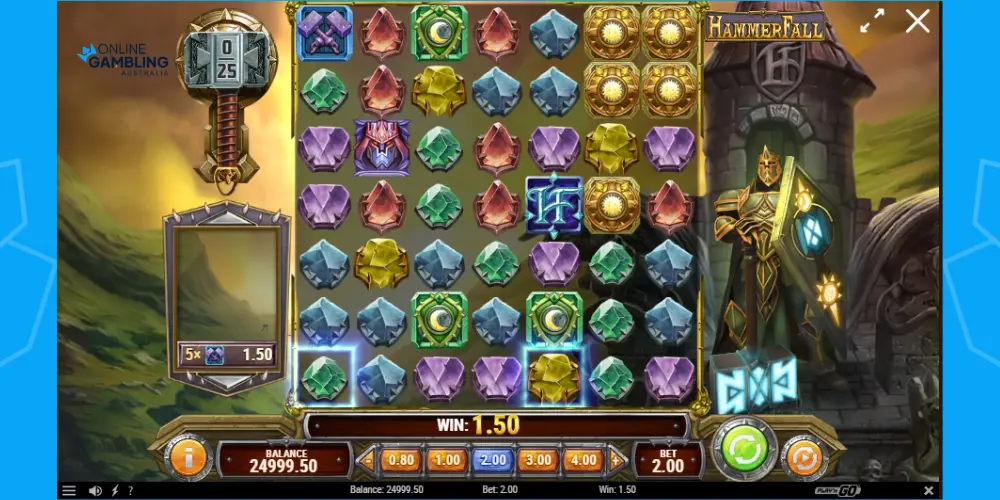 How to Play HammerFall
Embarking on the HammerFall journey guarantees a unique blend of excitement and potential rewards. The game operates on a cluster pays mechanism similar to that of Rise of Olympus pokie also by Play'n Go. Players can adjust their bets, with options starting as low as $0.20 and reaching up to a maximum of $100 per spin.
The allure of a potential maximum win of 30,000x your bet in a single spin makes the stakes even more enticing. Furthermore, the game is classified as high volatility, indicating that while wins might be less frequent when they do occur, they could be substantial. Players can also expect a return-to-player (RTP) rate of 96.2%.
A standout feature in HammerFall is the Super Tiles. Positioned behind random tiles on the grid, when part of a winning cluster, they morph into Lightning Wilds. As the winning symbols disappear, these dynamic wilds cascade down the grid.
Some even possess multipliers of up to x3, boosting potential rewards. In addition, the cascading symbols system ensures that after a win, the winning symbols are replaced, creating opportunities for consecutive wins. The unique Destruction features can also come into play on non-winning spins.
Pokie

HammerFall

Software

Play'n Go

Release date

May 2021

RTP

96.2%

Volatility

High

Maximum Win

30,000x

Minimum Bet

$0.20

Maximum Bet

$100

Paylines

Cluster Pays

Reels

7

Jackpot

No

Free spins

No
HammerFall Pokie Symbols
In HammerFall, the game symbols are beautifully crafted, blending seamlessly with its medieval theme and the power metal energy that permeates every spin. Each symbol has been meticulously designed, evoking the rich lore of knights, magic, and epic battles. From gleaming gemstones to iconic emblems of power, each symbol offers players an opportunity to forge their own tale of victory on the reels.
Low-payout Symbols
The gleaming gemstones of HammerFall represent the low-payout symbols. These gemstones include soothing Green Gems, mysterious Violet Gems, deep Blue Gemstones, sunlit Yellow Gems, and fiery Ember Gems, they frequent the reels more often. Their regular appearance ensures consistent, however, smaller, wins, keeping the gameplay lively and engaging.
High-payout Symbols
The symbols of prestige and grandeur in HammerFall encompass the Moon Shield, the Crossed Hammers, the Golden Shield, and the legendary Masked Knight, Hector. These high-payout symbols are rarer treasures on the reels. While they appear less frequently than their low-payout counterparts, when they do grace the grid, they bring with them the potential for more substantial rewards, reflecting their esteemed status.
Special Symbols & Extra Features
Special symbols in online pokies often pave the way for bigger rewards and unique features, or add a touch of surprise to the gaming experience. In HammerFall, these symbols not only enhance the gameplay but also provide an additional layer of excitement to every spin.
HammerFall Logo (Wild): This emblematic symbol represents the wild in the game. Acting as a versatile substitute, it can stand in for any other symbol, aiding in the formation of winning clusters.
HF Signs (Red and Blue): Serving as additional wild symbols, the HF signs have the power to replace any other symbol on the grid, further enhancing the potential for wins.
| | | |
| --- | --- | --- |
| Symbol | Payline | Maximum Payout |
| Hector | x15+ | 500x |
| Golden Shield | x15+ | 125x |
| Crossed Hammers | x15+ | 50x |
| Moon Shield | x15+ | 40x |
| Firy Ember Gem | x15+ | 25x |
| Yellow Gem | x15+ | 20x |
| Blue Gem | x15+ | 15x |
| Violet Gem | x15+ | 10x |
| Green Gem | x15+ | 5x |
HammerFall Pokie Bonuses
In the riveting world of HammerFall, bonuses are the game-changers, the unexpected twists that can dramatically reshape the landscape of play. They infuse the gameplay with suspense, anticipation, and the exhilarating possibility of striking it big. Each bonus, with its unique mechanics, offers players an enriched gaming experience and the potential for sizeable rewards.
Hammer Meter & Song Features
The Hammer Meter is a visual representation of your progress, filling up as you create winning combinations. As you line up symbols and form clusters, the meter charges, acting as a bridge to the game's unique Song Features. The act of collecting 25 symbols fully charges the Hammer Meter, unlocking the Song Feature associated with the current world you're playing in.
Overcharging the meter with 50 symbols in total initiates the Hammer High feature, a glorious bonus round where all three Song Features are activated in quick succession, offering players a whirlwind of winning opportunities.
Twilight Princess
This melodious feature brings forth a 2×2 Mega Wild symbol onto the grid. The presence of this enlarged wild symbol significantly amplifies the chances of landing winning clusters, acting as a beacon of hope for bigger rewards.
Second to None
In a spectacular display, this feature magically transforms all the high-paying symbols on the grid into one uniform symbol. By making the grid teem with high-value symbols, it opens up avenues for more substantial wins, making each spin a potential goldmine.
And Yet I Smile
A whimsical feature, it sweeps the grid clean of all low-paying symbols. By doing so, it makes room for high-value symbols to dominate the scene, increasing the odds of bagging bigger wins.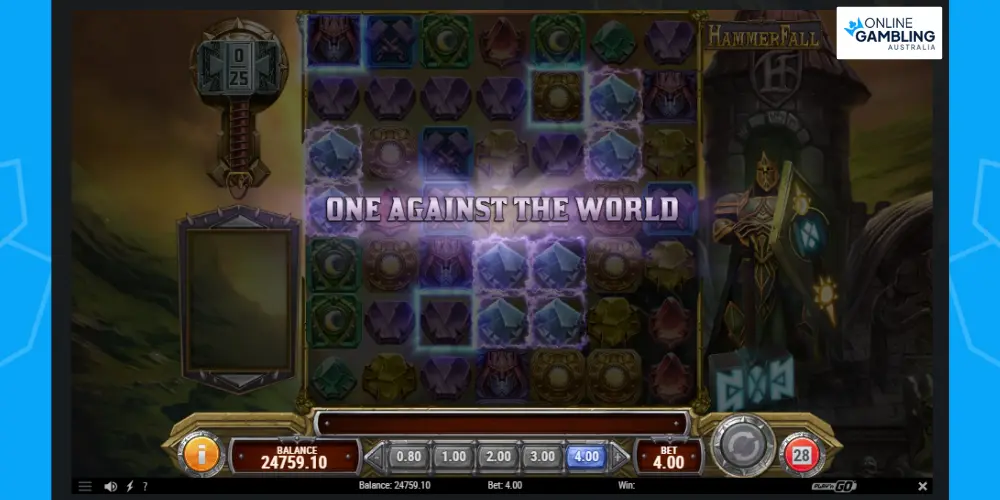 Super Tiles & Lightning Wilds
Behind the scenes, or rather the grid, Super Tiles are positioned randomly. When they find themselves as part of a winning combination, they metamorphose into Lightning Wilds.
As symbols from a winning cluster vanish, these electrifying wilds cascade down the grid. Their potential doesn't stop there, as some of these wilds come with multipliers, multiplying the wins by up to three times.
Destruction Features
Even non-winning spins in HammerFall hold a hidden potential. On such spins, there's a chance for one of four Destruction features to activate, reshaping the grid and offering new winning possibilities:
Never Forgive, Never Forget: A chosen symbol acts as a magnet, drawing all its counterparts towards it. Symbols in their path are cleared away.
One Against the World: A symbol is highlighted. Its neighbouring symbols might either transform to match it or get cleared from the grid.
Bring It: A spotlight is cast on all high-value symbols. Some transform to match a specific type, while others disappear.
Chain of Command: A chain of symbols emerges, which then either transforms into a single type or gets removed, triggering potential cascading wins.
The HammerFall Experience | Rock On & Spin Away!
As the reels of HammerFall spin and the electrifying tunes of the Swedish metal band play in the background, players are undoubtedly treated to a pokie experience that's both thrilling and rewarding. From its cluster pays mechanism to the myriad of bonuses and features, Play'n GO has truly crafted a game that keeps players at the edge of their seats.
Whether you're a die-hard fan of the band or a newbie just venturing into the realm of grid pokies, HammerFall proves to be a delightful mix of music, medieval themes, and money-making opportunities. For those who embark on this gaming journey, the potential rewards, coupled with an immersive experience, make it a must-try.
Before diving headfirst into the world of online gambling, it's always wise to arm yourself with knowledge. Checking out OnlineGamblingAus and reading our trusted online gambling reviews can provide invaluable insights, ensuring you're well-prepared to maximise your HammerFall experience.
Frequently asked questions
Who developed the HammerFall pokie?
The HammerFall pokie was developed by Play'n GO, a renowned software provider known for producing high-quality online casino games.
What is the theme of the HammerFall pokie?
HammerFall is themed around the Swedish power metal band of the same name. The game incorporates a dark medieval backdrop with powerful knights, magic stones, and electrifying music tracks from the band.
How do I win on HammerFall?
Wins in HammerFall are achieved through a cluster pays mechanism. You need to form clusters of 5 or more matching symbols, either horizontally or vertically, to secure a win.
How does the cluster pays mechanism differentiate from traditional paylines?
Unlike traditional paylines where symbols need to line up in specific patterns, the cluster pays mechanism in HammerFall requires players to group symbols together. This means that when 5 or more matching symbols touch either vertically or horizontally, a win is achieved, providing a dynamic and engaging gameplay experience.
What makes HammerFall stand out from other music-themed pokies?
HammerFall stands out due to its unique blend of power metal music and a captivating medieval theme. The game also incorporates actual tracks from the band, creating an immersive experience for both fans of the music and those new to the band. Its plethora of features further adds to its distinct appeal.
Can I customise my gaming experience in HammerFall?
Absolutely! HammerFall allows players to adjust various settings, including bet sizes, music volume, and spin speed. This ensures that players can tailor their gameplay according to their preferences, making for a more personalised experience.
Why are there different "worlds" in the HammerFall pokie?
The different worlds in HammerFall add layers of depth and excitement to the game. Each world has its own unique Song Feature, which is activated once the Hammer Meter is charged. As players transition between these worlds, they'll encounter varying bonuses and features, keeping the gameplay fresh and engaging.