Pros and Cons
Pros

Multiple features including Deep Spins, Fish Collect, and Fishin' Bonanza Modifiers
Opportunity for Gus to collect all fish on screen in the Reel 'em in feature
Big Catch multiplier can enhance wins in the base game
Potential to gain extra spins and increase multipliers
Sticky Golden Fish feature available during Deep Spins
Cons

Only one Sticky Golden Fish can land during a bonus round
The game might not cater to players seeking extreme rewards
Gus Goes Fishin' Pokie Review
Gus Goes Fishin' by iSoftBet is a refreshing dive into the world of online pokies. Set in a tranquil fishing environment, the game boasts calming blues and greens, immersing players in a serene waterscape. Gus, our fishing enthusiast, adds a unique twist to the theme, making the pokie distinctive.
The graphics are sharp and vibrant, with detailed symbols ranging from various fish to special bonus icons. Smooth animations, especially Gus's fishing antics, enhance the gameplay experience. The soundscape, filled with nature's melodies and distinct audio cues for wins, complements the visual elements seamlessly.
In the competitive realm of online pokies, Gus Goes Fishin' emerges as a top choice, blending relaxation with exhilarating gameplay.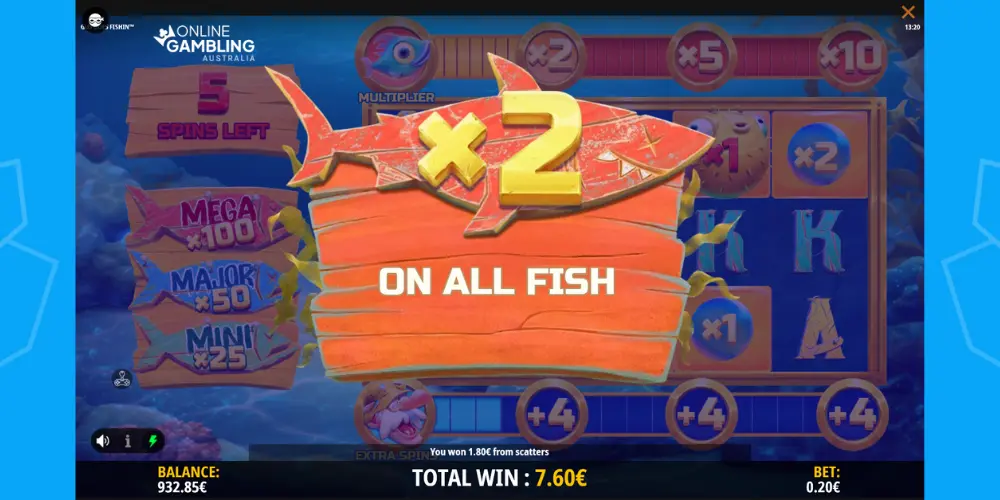 How to Play Gus Goes Fishin'
Playing Gus Goes Fishin' is a delightful experience, designed to be both intuitive and engaging. To begin, players need to set their desired bet amount, which can range between a specified minimum and maximum bet, which are $0.20 and $20, just like in the pokie game Queens of ra Power Combo. Once the bet is set, simply hit the spin button to set the reels in motion. Wins are achieved by landing matching symbols on the paylines, with some symbols having special attributes. Notably, the Fish symbols payout when they land together with the Wild/Collect symbol, adding an extra dimension to the gameplay. The collect symbol is similar to that of Rise of the Valkyre by Yggdrasil and Mustang Gold by Pragmatic Play.
In terms of game statistics, the pokie has a specific Return to Player (RTP) percentage which is 96%, just like Kangaroo King and Judgement Day Megaways. This indicates that the theoretical amount players can expect to win back over an extended period of play. The game's volatility is set at a certain level, which provides insight into the frequency and size of potential payouts. Players should also be aware of the maximum win achievable from a single spin, which is a testament to the game's potential rewards.
To further enhance the playing experience, Gus Goes Fishin' offers several intriguing features. Among these are the Fishin' Bonanza Modifiers, where on any paid spin with one or more fish symbols without Wilds, Gus can collect all the fish on the screen. Additionally, the Big Catch feature allows Gus to award a random win multiplier of x2, x3, or x5 on any paid winning spin, amplifying the potential rewards.
Basic Information
Pokie

Gus Goes Fishin'

Software

iSoftBet

Release Date

July 2023

RTP

96%

Volatility

Medium - High

Maximum Win

2,000x

Minimum Bet

$0.20

Maximum Bet

$20

Payline

20

Reels

5

Jackpot

No

Free Spins

Yes
Gus Goes Fishin' Pokie Symbols
In Gus Goes Fishin', each symbol on the reels is a visual treat, capturing the spirit of a fishing adventure. From the tackle box and gold coin-filled boot to the vibrant starfish and wiggly bait worm, every icon has been crafted with attention to detail.
These symbols not only amplify the game's aesthetic appeal but also determine the payouts players can anticipate. Let's get into the various categories of symbols, shedding light on their appearances and significance in the game.
Low-payout Symbols
The lower-tier symbols in Gus Goes Fishin' are represented by the familiar card icons: A, K, Q, and J. These have been given a fresh look to seamlessly blend with the game's aquatic theme. While they might not offer the heftiest rewards, their frequent appearances on the reels ensure a consistent stream of smaller wins that maintain the game's momentum.
High-payout Symbols
Moving up the value chain, we have the high-payout symbols that resonate deeply with the fishing theme. The Tackle Box symbol, essential for any fishing expedition, the quirky Gold Coin gold-filled boot, reminiscent of unexpected catches, the delicate Starfish, and the essential Bait Worm symbol. Each of these symbols, with their detailed designs, promise more generous rewards, making them a welcome sight on every spin.
Special Symbols
Special symbols in Gus Goes Fishin' play pivotal roles in enhancing the gameplay. The Wild/Collect symbol is particularly notable for its substituting abilities and its unique interaction with fish symbols. Moreover, the Bonus symbol, while not mentioned in the paytable, is a gateway to the game's Deep Spins feature, amplifying the chances of hefty wins.
Symbols Paytable
| | | |
| --- | --- | --- |
| Symbol | Payline | Maximum Payout |
| Tackle Box | x5 | 20x |
| Gold Coin Filed Boot | x5 | 10x |
| Starfish | x5 | 7.5x |
| Bait Worm | x5 | 5x |
| A | x5 | 4x |
| K | x5 | 3x |
| Q | x5 | 2x |
| J | x5 | 1x |
Gus Goes Fishin' Pokie Bonuses
Gus Goes Fishin' offers players a rich tapestry of bonus features, each tailored to amplify the excitement and winning potential. Central to these bonuses is the Deep Spins Trigger, which is set in motion by the appearance of Bonus symbols on the reels. Once activated, players are plunged into a world of multipliers, extra spins, and the exclusive Sticky Golden Fish feature.
Each bonus has been meticulously designed to not only enhance the gameplay but also boost the potential rewards that players can reel in. Let's take a closer look at each of these bonuses, delving into their triggers, mechanics, and the wins they promise.
Deep Spins Trigger
The Deep Spins Trigger is the gateway to the game's primary bonus round. Activated by landing 3, 4, or 5 Bonus symbols, players are awarded 8, 10, or 12 Deep Spins respectively. This feature is not just about free spins; it's an opportunity to accumulate fish symbols, which contribute to a multiplier progress bar.
As players collect more fish, they can achieve multipliers of x2, x5, or even x10, which apply to all subsequent fish symbol values until the feature concludes. Additionally, the multiplier also affects the Big and Sticky Golden fish symbols, offering even greater rewards.
Multiplier Progress
Within the Deep Spins, players have the chance to increase their winnings with the Multiplier feature. As fish symbols are collected during the spins, they contribute to a progress bar. Collecting 8 fish awards a x2 multiplier, 16 fish boosts it to x5, and a whopping 24 fish rockets the multiplier to x10. These multipliers then apply to all fish symbol values from the next spin onwards, dramatically enhancing the potential payouts.
Extra Spins
As part of the Deep Spins feature, players also have a chance to earn extra spins, prolonging their bonus round. Every time wild symbols land on the reels, they contribute to an extra spins progress bar. Accumulating 5 wilds grants an additional 4 spins, and this can be repeated with 10 and 15 wilds, each adding another 4 spins to the tally.
Sticky Golden Fish
Exclusive to the Deep Spins is the Sticky Golden Fish feature. This unique symbol holds value and remains stuck to the reels for the entirety of the Deep Spins. Its presence not only increases the chances of forming winning combinations but also adds an element of anticipation, as players eagerly await its landing.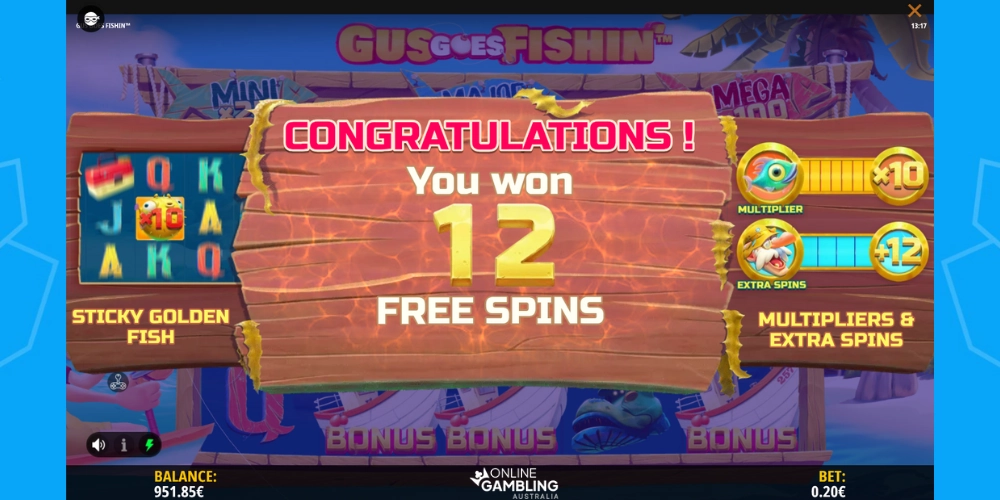 Gus Goes Fishin': Reeling in Our Impressions
As we reel in our exploration of Gus Goes Fishin', it's clear that this pokie stands out in the vast sea of online gambling options. It is more than just another casino game; it's a delightful escapade into the world of fishing with our endearing companion, Gus. iSoftBet has managed to craft a pokie that seamlessly blends engaging gameplay, vibrant graphics, and a myriad of bonuses to keep players hooked.
Whether you're an avid angler or someone just looking to enjoy a new pokie experience, Gus Goes Fishin' offers a blend of relaxation and excitement, promising countless hours of entertainment. So, the next time you're looking to cast a line and reel in some big wins, remember Gus is waiting, fishing rod in hand, ready to share his adventure.
Frequently asked questions
Who is the developer behind the Gus Goes Fishin' pokie?
Gus Goes Fishin' was developed by iSoftBet, a renowned software provider known for its innovative and engaging online casino games.
Can I play Gus Goes Fishin' on multiple devices?
Absolutely! iSoftBet ensures that their games are optimised for various platforms. So, while not explicitly mentioned, most iSoftBet games can be enjoyed on desktops, tablets, and other devices without compromising on quality or gameplay.
How does the Fishin' Bonanza Modifier differ from standard features?
The Fishin' Bonanza Modifier is a unique element where, on any paid spin with one or more fish symbols without Wilds, Gus can collect all the fish on the screen. This adds an unexpected twist, elevating the excitement levels during gameplay.
Are there any strategies to increase my chances of winning?
Pokie games, including Gus Goes Fishin', are primarily based on luck and RNG (Random Number Generator) mechanisms. While there's no surefire strategy, it's always good practice to set a budget, understand the game features, and play responsibly.
How does the atmosphere of Gus Goes Fishin' compare to other fishing-themed pokies?
Gus Goes Fishin' stands out with its vibrant visuals and the character of Gus, adding a narrative touch to the game. The soundscape, filled with nature's melodies, complements the visual elements, providing an immersive and serene fishing environment.
What's unique about the Sticky Golden Fish feature?
Exclusive to the Deep Spins, the Sticky Golden Fish symbol holds value and remains on the reels for the entire duration of the Deep Spins. Its presence not only boosts chances of winning but adds an element of anticipation to the gameplay.
Can I set a limit on how much I bet while playing Gus Goes Fishin'?
Yes, players have the flexibility to choose their bet amount, ranging from a minimum of $0.20 to a maximum of $20 per spin. It's always advisable to set a budget and stick to it to ensure a fun and responsible gaming experience.