Pros and Cons
Pros

High RTP at 96.59%
Engaging graphics and immersive sounds
Multiple bonus features
Progressive Mega Jackpot
Available across various platforms
Cons

Lack of multipliers in bonus features
Divine Fortune Review
Dive into a realm of ancient mythology with Divine Fortune, a masterfully crafted pokie brought to you by NetEnt. With a theme centred around Greek mythology, players will be captivated by the familiar mythical creatures like Medusa, Phoenix, and Minotaur that dominate the reels.
Aesthetically, the pokie impresses with its refined visuals, an homage to Greek architecture and the grandeur of Mount Olympus. The atmospheric sounds coupled with the crisp graphics are sure to captivate you, transporting you straight to ancient times.
The gameplay doesn't disappoint either. With its array of special features including Falling Wild Respins, Wild on Wild, and Free Spins, there's enough to keep players engaged and spinning. And let's not forget the progressive Mega Jackpot, which presents an opportunity to win substantial prizes.
How to Play Divine Fortune Pokie
Playing Divine Fortune is fairly straightforward. First, you need to set your bet level and coin value, which will determine your total bet. The game has 20 fixed paylines with 5 reels and 3 rows. The bet size varies from a very accessible minimum of $0.20 to a modest maximum of $100, making it an excellent choice for those on a tighter budget or beginners, but may not fully satisfy high-roller players who prefer larger bets.
The Divine Fortune pokie comes with an RTP of 96.59%, leaning towards the higher side of the industry average. The game's medium – high volatility, however, requires a measure of patience as wins can come in larger amounts but less frequently. For the lucky ones, the maximum win from a single spin can be a whopping $60,000.
Aside from these, there are other excellent NetEnt titles like "Fruit Shop" and "Twin Spin", which have been favourites amongst players at the Top Online Casinos.
Basic Information
Pokie

Divine Fortune

Software

NetEnt

Release Date

January 2017

RTP

96.59%

Volatility

Medium - High

Maximum Win

600x

Minimum Bet

$0.20

Maximum Bet

$100

Paylines

20

Reels

5

Jackpot

Yes – Progressive Jackpot

Free Spins

Yes
Divine Fortune Pokie Symbols
The Divine Fortune pokie invites you to step into a world where the symbols are steeped in ancient Greek mythology. Each beautifully designed icon plays a key part in your quest for rewards, enhancing the overall game narrative and adding an extra layer of excitement to every spin.
High-Paying Symbols
High-paying symbols are represented by mythical creatures, all well-recognised from ancient Greek lore. These include the Nemean Lion, the mighty Phoenix, the fearsome Minotaur, and the elegant Medusa. Each of these icons rewards players with a significant payout when three or more of the same kind line up on an active payline. The most rewarding among them is the Medusa, offering substantial rewards even when just two of her symbol settles on the reels.
Low-Paying Symbols
As with many online pokies, Divine Fortune also features traditional card symbols (Jack, Queen, King, and Ace) as its low-paying symbols. These classic symbols, though lower in value, can boost your balance frequently due to their common occurrence on the reels. Players need to align at least three of the same low-paying symbols on a payline to secure a win.
Special Symbols
Special symbols include the Wild and the Free Spins symbol. The Wild is depicted by the legendary Pegasus, renowned for his role in countless heroic tales. Pegasus can substitute for all other symbols, apart from the Free Spins and bonus symbols, to help form winning combinations.
Symbols Paytable
| | | |
| --- | --- | --- |
| Symbol  | Payline | Maximum Payout |
| Medusa  | x5 | 600x |
| Nemean Lion | x5 | 400x |
| Minotaur  | x5 | 300x |
| Phoenix  | x5 | 200x |
| A | x5 | 80x |
| K | x5 | 80x |
| Q | x5 | 60x |
| J  | x5 | 60x |
Divine Fortune Bonuses
In Divine Fortune, the thrill of the game is magnified by a myriad of rewarding bonuses. These bonuses, steeped in Greek mythology, offer a multitude of opportunities to increase your winnings. Each one presents its own unique set of rules and benefits, enhancing the overall gameplay experience and offering players a chance at impressive rewards.
Falling Wilds Re-spins
Whenever a wild symbol, represented by the legendary Pegasus, graces the reels, the Falling Wilds Re-spins feature comes into play. After the wins of the spin are awarded, a Falling Wilds Re-Spin is triggered when the symbol on the reels moves down one position. This can occur in both the main game and during free spins.
The wilds persist in activating re-spins up until they vanish from the reels, even granting a re-spin as the last wild symbol drops off the lowest row. Remarkably, this feature allows for the triggering of Free Spins and the Jackpot Bonus game.
Wild on Wild Feature
The Wild on Wild feature is a unique aspect of Divine Fortune that adds an exciting twist to the gameplay. This feature is activated when a wild symbol settles behind a falling wild, occurring in both the main game and during free spins. Once triggered, the wild symbol extends to canopy the whole reel and all wins for that spin are calculated.
The expanded wild then shifts down one spot on the reels, with each movement awarding a Falling Wilds Re-spin and leaving behind two falling wilds on the reel.
Free Spins
The Free Spins feature is activated when three or more Free Spin symbols, depicted by the mighty hand of Zeus holding a lightning bolt, appear anyplace on the reels in the main game or during Falling Wilds Re-spins. In a twist unique to the Free Spins feature, any wild symbol landing on the reels casually stretches to cover the entire reel, triggering the Wild on Wild feature.
Depending on the amount of Free Spin symbols landed you can be awarded 5, 8, or even 12 free spins, amplifying your chances of significant wins.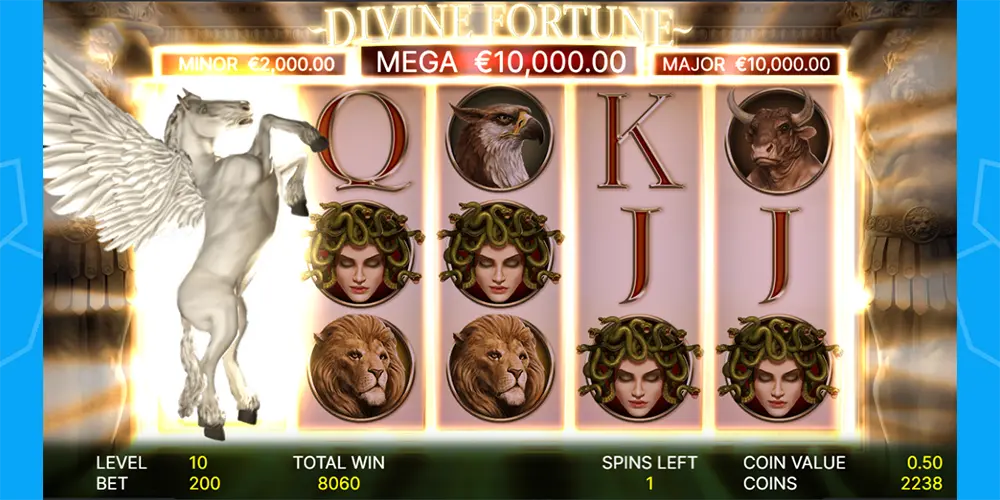 Jackpot Bonus Game
Dive into the exciting Jackpot Bonus game by collecting three or more bonus symbols in the main game, including during Falling Wilds Re-spins. The accumulated bonus symbols are randomly placed on the reels at the commencement of the Jackpot Bonus game. Each bonus symbol brings with it a coin win value ranging from 10 to 200 times the bet level, adding to your bounty.
In this bonus round, you're granted three spins, and you'll find yourself staring at a screen with a 5×3 layout populated by empty spaces and coins, each coin showcasing a random win amount. Each time you land a coin, your spins reset to three. However, if you go three spins without landing a coin, the bonus game concludes, and the sum of all coin wins along with potential jackpots are awarded.
Minor Jackpot
While you're in this engaging bonus game, filling an entire row with coins will fetch you the Minor Jackpot. This is a fixed payout, rewarding you with 20 times your bet, giving a nice boost to your overall win.
Major Jackpot
The stakes get higher as you continue to collect bonus symbols. If you manage to fill two entire rows with these bonus symbols, you will be awarded the Major Jackpot. This presents you with a handsome payout, equating to 100 times your bet.
Mega Jackpot
The most desirable prize of all, the Mega Jackpot, awaits players who can fill all three rows with bonus symbols. This is a progressive jackpot, guaranteeing a minimum win of $100,000, though the actual value could be significantly higher, depending on how much it has grown.
Remember, the likelihood of winning the Mega Jackpot increases with the size of your bet. Plus, the beauty of it all is that every spin within the Jackpot Bonus game is absolutely free. So, in this realm of ancient mythology, the Divine Fortune bonuses can lead you to rewards that are truly heavenly.
Divine Fortune | Trust These Greeks Are Bearing Gifts
In the grand scheme of online pokies, Divine Fortune holds a distinctive position. Its gameplay is more than just a mesh of spinning reels – it's an invitation to partake in a mythical journey, led by the most powerful beings of Greek folklore. The enchanting narrative, coupled with intricate graphics and an atmospheric soundtrack, isn't merely a feast for the eyes and ears, but also a doorway to a past era, brimming with ancient riches waiting to be discovered.
Every spin in this game carries the promise of the unexpected. One moment, Pegasus might offer you a re-spin as a token of divine favour; the next, the gods could grant a full reel of wilds or an enticing string of free spins. And the Jackpot Bonus game? Well, that's like Zeus himself descending from Olympus to award you with potential jackpots.
Playing Divine Fortune is akin to embarking on a quest in the legendary land of gods and heroes. It's about savouring the thrill of the chase, rising to the challenges, and reaping the rewards. This pokie's divine charm lies not just in its potential for wins, but also in the unforgettable gaming experience it offers.
Frequently asked questions
Can I adjust the bet level and monetary value in Divine Fortune?
Absolutely. Divine Fortune allows you to adjust both the bet level and monetary value, offering flexibility to suit your personal gaming style and budget. Remember, the chance to win the Mega Jackpot increases with the bet size.
What's the highest amount I can win on a single spin?
The highest win from a single spin will depend on your bet level and the symbols that land on the reels. The most lucrative win comes from the Mega Jackpot in the Jackpot Bonus Game, the value of which is progressive and increases with each spin.
Does the Divine Fortune pokie have an autoplay feature?
Yes, Divine Fortune does include an autoplay feature. This allows you to set a predetermined amount of spins to play automatically, making your gameplay experience smoother and more relaxed.
How does the Wild on Wild feature work in the free spins round?
During the free spins round, any Wild symbol landing on the reels becomes a Wild on Wild, automatically expanding to cover the entire reel. This enhances your potential for bigger wins.
Can I trigger the Jackpot Bonus game during Free Spins?
No, the Jackpot Bonus game can only be triggered during the main game, including Falling Wilds re-spins. The bonus symbols gathered during these rounds are used to activate the Jackpot Bonus game.
What happens if multiple wins occur on the same bet line in Divine Fortune?
In Divine Fortune, if multiple wins occur on the same bet line, only the highest win per bet line is paid. This rule applies to both the main game and the Free Spins round. This is standard across many pokies, ensuring that your winning potential is maximised on each spin.
Can I play Divine Fortune pokie if I'm new to online gaming?
Absolutely. While the Divine Fortune pokie does have several bonus features, its overall gameplay is quite intuitive. You may want to start with the free-play mode to familiarise yourself with the mechanics before wagering real money.