Top Online Casinos for Playing Quantum Roulette Live
Selecting the right online gambling platform from a vast array can be challenging. Beyond mere entertainment, players value safety and the perks of premier casinos. Our in-depth online casino reviews aim to guide Australian players to the best choices. Below, you'll find a curated list of our top recommendations.
What is Quantum Roulette Live?
Quantum Roulette Live, a Playtech innovation, is a dynamic merger of traditional European roulette and cutting-edge enhancements. Unlike its non-live variants, this game offers real-time interaction, enveloping players in an atmosphere of high-definition visuals and dynamic sounds. With an RTP of 96.10% underpinned by a Random Number Generator (RNG) system, it assures fairness.
The game's interface is sleek, modern, and user-friendly, complemented by a studio exuding a mix of neon lights and futuristic aesthetics. Players are greeted by engaging presenters, amplifying the live experience, making each spin memorable.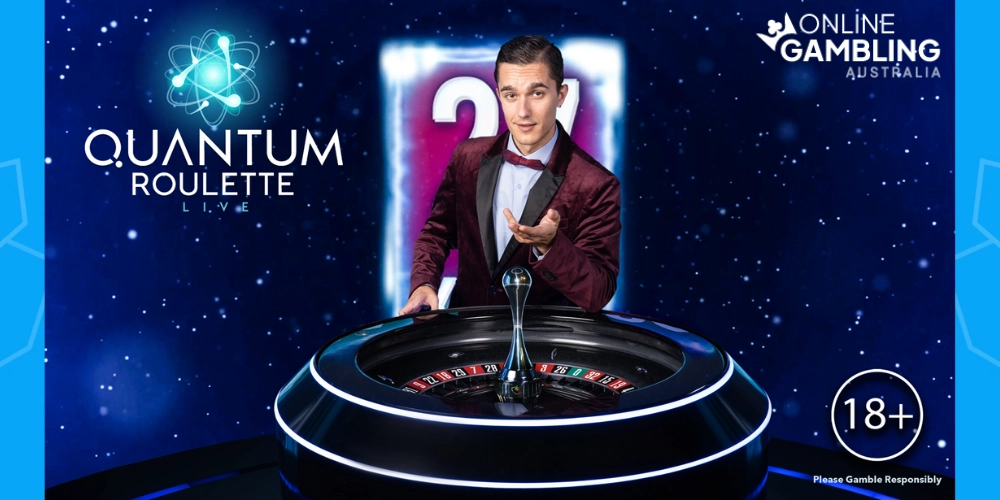 How to Play Quantum Roulette Live
Quantum Roulette Live is akin to stepping into a futuristic dimension where playing traditional online roulette for real money meets the avant-garde. This variation, crafted meticulously by Playtech, offers players an electrifying experience that is both familiar yet refreshingly innovative. The game hinges on the foundational principles of European roulette but incorporates elements that elevate the gameplay to thrilling new heights.
Quantum Roulette Live presents a single-zero variant with an automated roulette wheel and a virtual table interface. The presenter's role is primarily to host and engage, not to set the wheel in motion.
If you're eager to try your hand at this modern rendition of a classic, here's a straightforward guide to get you started:
1. Launch the game and wait for the next betting round if one is in progress.
2. Observe the friendly presenter who enhances the game's atmosphere, but note they won't spin the wheel or introduce the ball.
3. During the betting window, place your wagers on the virtual table interface.
4. Make use of features like 'Rebet', 'Undo', and 'Double' to adjust your bets as needed.
5. Interact with other players or the presenter using the Live Chat feature.
6. Watch the wheel spin and await the outcome.
7. If your bet aligns with the result, you win!
Quantum Roulette Live House Edge & Payouts
Quantum Roulette Live offers an RTP of 97.29%, which is in line with standard European Roulette, translating to a house edge of 2.71%. This positions it as a relatively player-friendly live dealer game. However, keep in mind that when you factor in the game's multipliers, the house edge can adjust accordingly.
Here's a detailed breakdown of the payouts without multiplier:
| | |
| --- | --- |
| Bet Type  | Payout Without Multiplier  |
| Straight Up | 29:1 |
| Split  | 17:1 |
| Street | 11:1 |
| Corner | 8:1 |
| Basket | 8:1 |
| Line  | 5:1 |
| Red/Black | 2:1 |
| Column/Even | 2:1 |
| Odd/Even | 1:1 |
Here is a breakdown of the payouts for straight up bets with multiplier:
50x = 49:1
100x = 99:1
150x = 149:1
200x = 199:1
250x = 249:1
300x = 299:1
400x = 399:1
500x = 499:1
Quantum Roulette Live: Extra Features
Playtech's Quantum Roulette Live isn't just about spinning the wheel and waiting for results. It's embellished with a rich array of features, ensuring a seamless and engaging gambling experience, here is our rendition of the extra features for Quantum Roulette Live:
Game Flow & Interface Dynamics:
Game Flow: For those joining a round already in progress, they'll need to exercise a bit of patience. Waiting for the next round ensures the game progresses without interruptions.
My Bets Feature: No need to tediously set your favourite wagers each time. The 'My Bets' panel allows you to swiftly recall and place them.
Special Bets Tab: This is where players can venture into special betting avenues, such as Complete and Half-Complete wagers.
Racetrack Panel: A separate section dedicated for placing Side bets and Neighbours bets, catering to diverse betting strategies.
Intuitive Gaming Tools:
Trail Betting: Exclusively designed for mobile gamblers, this allows players to place wagers without ever lifting a finger from their device.
Bet Creator: Want to design a custom bet? This feature's got you covered.
Lucky Dip: For those feeling particularly lucky, this feature enables wagering on as many Straight bets as possible, injecting an element of surprise.
Quantum Roulette Bonuses
In Quantum Roulette, players experience standout bonuses like Quantum Multipliers and Quantum Boosts that amplify wins and imbue thrill into every round. These enhancements not only heighten player returns but also ensure the game remains dynamic and alluring. Read on to find out how these bonuses contribute to your gaming session.
Quantum Multipliers
Standing out as one of the most enticing features of Quantum Roulette, the Quantum Multipliers are a testament to the game's potential for massive payouts. Specific straight-up bets are subject to these multipliers, which can range anywhere from 50x to a staggering 500x.
In every game round, players can witness up to five of these multipliers randomly enhancing different single numbers. This not only injects a dose of suspense into each spin but also raises the stakes, making the possibility of substantial rewards ever so real.
Quantum Boost & Quantum Leap
Beyond the initial set of multipliers, players should keep an eye out for the Quantum Boost and Quantum Leap features. These bonuses can be activated randomly after the primary multipliers are determined. The Quantum Boost serves to add an additional x50 value to an existing multiplier, further sweetening the pot.
On the other hand, Quantum Leap possesses the capability to either double or even triple a multiplier, with its potency reaching a peak at x500. These features underscore the game's commitment to providing players with unexpected twists and turns, ensuring every round remains fresh and exhilarating.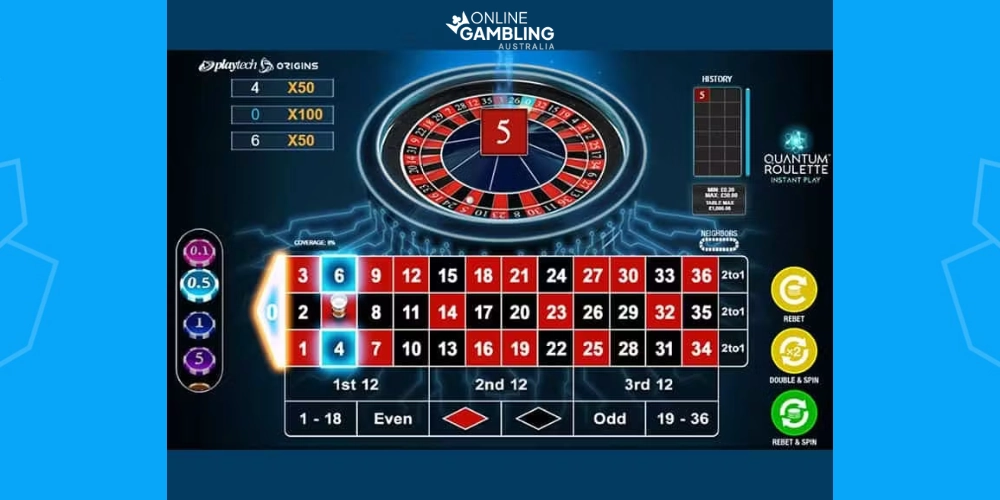 Mastering the Art of Quantum Roulette Live: Strategies & Tips
Participating at Quantum Roulette Live without a roulette strategy can leave one feeling a tad out of place. While the game thrives on unpredictability, players can still employ certain tactics to engage with Quantum Roulette more effectively. These strategies and tips are aimed at enhancing the gaming experience, helping players make informed decisions, and possibly tipping the odds a little more in their favour.
Maximising Multipliers
It's essential to note that the multipliers are exclusive to straight-up bets. A daring strategy some seasoned players adopt is covering the entire roulette table with straight-up bets.
While this approach requires a larger outlay of chips, the potential for hitting a boosted payout becomes more widespread. It's a strategy that carries inherent risks but also the allure of potentially vast rewards.
Staying Mindful of Payouts
Understanding the game's payout structure is fundamental to formulating a winning strategy. Quantum Roulette's payout table bears a resemblance to that of traditional European roulette, with one notable distinction: straight-up bets offer a payout of 29:1, a deviation from the typical 35:1.
This modification is in place to balance out the generous multipliers on offer. Players should factor this into their betting strategies, ensuring that their wagering decisions are always well-informed and deliberate.
Continuous Play & Utilising Game Features
Quantum Roulette Live boasts several features that, when used efficiently, can streamline gameplay and enhance the overall experience. Features like the ability to save favourite betting patterns or auto-confirm bets not only simplify the gaming process but also allow players to maintain a consistent rhythm.
By doing so, they can remain focused on their strategies without getting bogged down by the mechanics of placing bets. Embracing these features can make for a smoother, more enjoyable gaming session, ensuring players remain in the zone and on top of their game.
Traditional European Roulette vs. Quantum Roulette: A Strategy Showdown
Quantum Roulette Live transforms the age-old roulette experience, introducing a twist to the strategic approach. While both games revolve around the iconic spinning wheel and the thrill of predicting its outcome, the introduction of multipliers and special features in Quantum Roulette Live demands a fresh approach. This section goes into the strategic nuances of both, offering insights into how one might adjust their tactics when transitioning from the classic European version to the electrifying Quantum variant.
1. Betting Strategy:
Traditional European Roulette: The strategy often revolves around the even-money bets like red/black, even/odd, and high/low. Players also employ systems like the Martingale (doubling bets after a loss) or the Paroli (doubling bets after a win). Covering sections of the wheel or using the rule of thirds are also common strategies.
Quantum Roulette Live: The presence of multipliers shifts the focus to straight-up bets, as these are the bets that can benefit from the multipliers. This means that while in traditional roulette, a straight-up bet might be considered high risk for its 35:1 payout, in Quantum Roulette the potential for a 500x multiplier can make this bet more appealing.
2. Bankroll Management:
Traditional European Roulette: Players often set aside a dedicated bankroll and then divide it into units. The aim is to manage the bankroll over a session, and the choice of betting system (like Martingale or Paroli) can influence bet sizes.
Quantum Roulette Live: Given the emphasis on straight-up bets, players might opt for a more aggressive bankroll strategy to capitalise on the multipliers. However, this also means a higher risk of depleting the bankroll quickly.
3. Gameplay Dynamics:
Traditional European Roulette: Players often look for patterns, like hot or cold numbers, or wait for long streaks of a particular outcome (e.g., black) to then bet on the opposite (e.g., red).
Quantum Roulette Live: The random nature of multipliers means that looking for patterns might be less effective. Instead, players might focus on covering as many numbers as possible to take advantage of any potential multipliers.
While the foundational strategy for Quantum Roulette Live can be derived from traditional European roulette, the game's unique features necessitate adjustments and a different approach to maximise potential returns.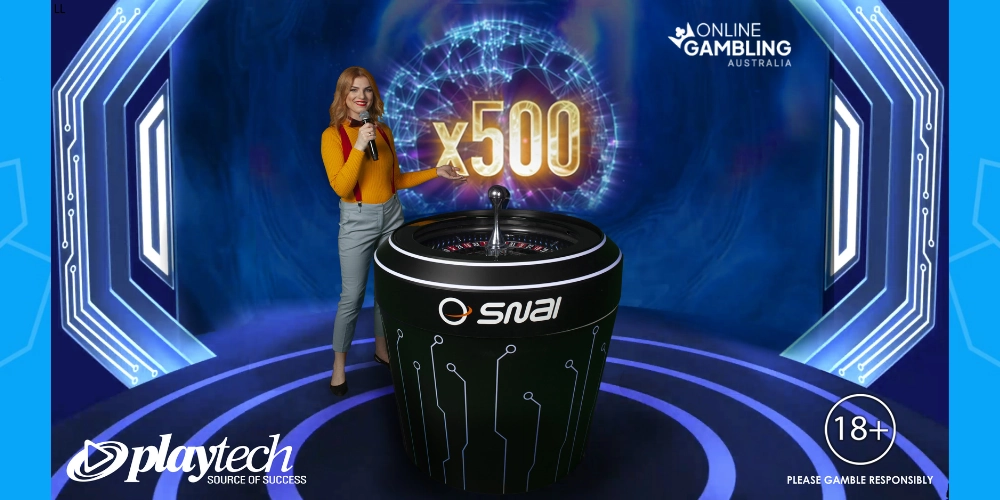 Quantum Roulette Live: A Vibrant & Juicy Spin on Tradition
Quantum Roulette Live by Playtech rejuvenates the traditional roulette experience, adding a dash of unpredictability and excitement with its unique features. The game's standout elements, such as the Quantum multipliers and the Quantum Boost & Leap, undoubtedly elevate the stakes and the potential rewards.
Streamed from a visually enthralling studio, the game offers a blend of classic gameplay with a futuristic touch, making it one of the most engaging live roulette variants available. However, players who cherish the simplicity of traditional European roulette might find the multiple features a tad overwhelming initially.
Furthermore, the reduced payout for straight-up bets, though compensated by the multipliers, can be a point of contention for some. But for those who embrace change and seek amplified thrills, Quantum Roulette Live promises an unparalleled experience.
Frequently asked questions
What sets Quantum Roulette Live apart from traditional European roulette?
Quantum Roulette Live integrates special features like Quantum Multipliers, Quantum Boost, and Quantum Leap. These elements amplify potential wins by applying multipliers ranging from 50x to 500x on straight-up bets, creating a more thrilling and unpredictable gameplay experience compared to traditional European roulette.
Who is the developer behind Quantum Roulette Live?
Quantum Roulette Live is developed by Playtech, a renowned gaming software provider known for producing innovative and high-quality casino games.
How are the Quantum Multipliers determined?
Quantum Multipliers are randomly generated after bets are placed. Up to five multipliers can be applied to straight-up bets in any game round.
Can I interact with the game's presenter and other players during the live stream?
Yes, Quantum Roulette Live offers a Live Chat feature, enabling players to communicate with both the presenter and other participants. Additionally, players have options to Rebet, Undo bets, and Double their wagers, and can access the Cashier window for seamless gameplay.
What is the Return to Player (RTP) for Quantum Roulette Live?
The theoretical Return to Play for Quantum Roulette Live is 96.10%, which is slightly lower than traditional European roulette due to the game's special features.
Are there any betting limits for Quantum Roulette Live?
Yes, Quantum Roulette Live offers a betting range from $0.20 to $500, catering to both casual players and high rollers.
Does Quantum Roulette Live have side bets?
No, Quantum Roulette Live does not feature side bets. The game's primary focus is on the core roulette gameplay and the special Quantum features.