Pros and Cons
Pros

Distinct and entertaining Dracula theme
High-roller options for enhanced gameplay
Multiple bonus games for increased win opportunities
Broad betting range suitable for all players
High RTP of up to 99% with select bet options
Triple-chance free spins and wild symbols
Cons

Restricted to 10 non-selectable win lines
No option to re-trigger free spins during bonus play
Ooh Aah Dracula Pokie Review
Ooh Aah Dracula stands out as a delightful and distinctive high RTP pokie creation by Barcrest. The game welcomes players with a light-hearted and slightly eccentric Dracula theme, artfully blending the mystique of the night with playful visuals. The symbols are both vibrant and cartoon-like, setting a whimsical tone for the game. Notably, even the traditional playing card symbols have undergone a unique transformation, with candles adorning the Kings and bats forming the cross of the ace.
Dracula himself sports a cheeky appearance with bright blue sunglasses, and other symbols include a castle, a female vampire, and a catchy 'Ooh Aah Dracula' logo. A prominent red heart pierced with a stake serves as a significant icon, triggering the bonus game. The auditory experience complements the visuals perfectly. The game boasts a lively soundtrack that predominantly plays an upbeat tune, interspersed with segments reminiscent of the song 'Rock Lobster' by the B52s.
While this musical choice might seem unexpected for the theme, it adds to the game's quirky charm. The remaining sound effects, mainly computer-generated, blend seamlessly, with a bell tolling whenever the heart symbols grace the reels, heralding the potential activation of the bonus. Graphically, the game is polished with a modern touch, ensuring that players enjoy a visually stimulating experience as they navigate the world of Ooh Aah Dracula.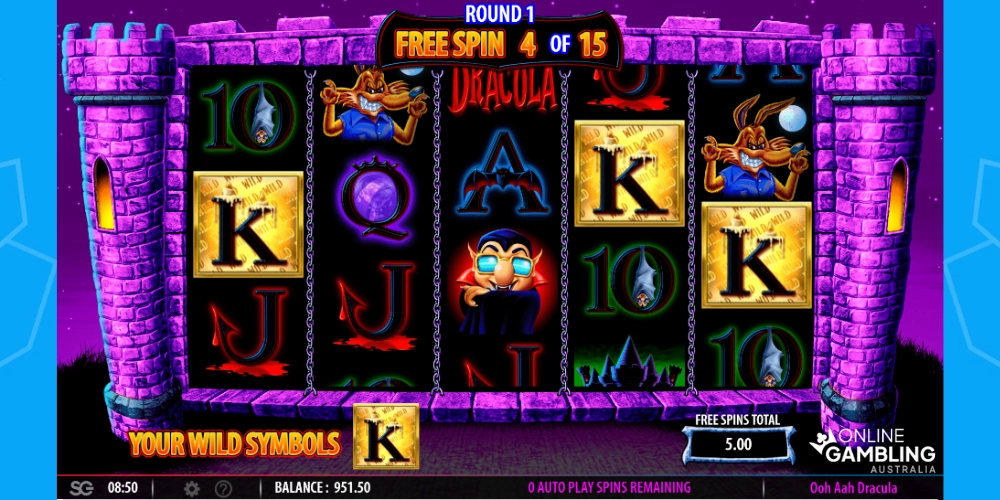 How to Play Ooh Aah Dracula
Playing Ooh Aah Dracula is straightforward, making it approachable to all types of gamblers. This pokie features 10 non-selectable win lines and offers a wide betting range. Players can place wagers starting as low as $0.10, reaching up to a maximum of $500 per spin. The game's RTP varies based on gameplay choices.
In standard mode, the RTP stands at a respectable 96%. However, those willing to engage in the 'high roller' options can enjoy an increased RTP of up to 99%, provided they possess the bankroll to accommodate the steeper stakes. This medium-variance pokie boasts a maximum win of 250,000 credits in a single spin, making it a potentially lucrative choice for players. Beyond these basics, the game showcases several unique features.
The 'Hi Roller' button introduces players to additional betting options, promising richer rewards. The pokie also features a 'wild' symbol that substitutes for all regular symbols, excluding the scattered hearts, which are integral to the game's main bonus. Let us explore its symbols, bonus features and mechanics in the sections below.
Basic Information
Pokie

Ooh Aah Dracula

Software

Barcest

Release Date

June 2019

RTP

96%-99%

Volatility

Medium

Maximum Win

250,000x

Min Bet

$0.10

Max Bet

$500

Payline

10

Reels

5

Jackpot

No

Free Spins

Yes
Ooh Aah Dracula Pokie Symbols
In the Ooh Aah Dracula pokie, symbols play a pivotal role, not only enhancing the game's visual appeal but also determining the player's winnings. Crafted with attention to detail, each symbol carries a unique weight in the game, and they've been categorised based on their payout potential.
Ranging from the everyday playing cards that have been given a gothic twist to the distinct special symbols that trigger unique game features, there's a lot to uncover. Let's break them down into low-payout, high-payout, and special categories.
Low-payout Symbols
The low-payout symbols in Ooh Aah Dracula primarily consist of the transformed playing cards. These cards, familiar to many, have undergone a dark makeover to align with the game's theme. For instance, the Jack card symbol is shaped into a bloody hook, while the 10 boasts a hanging bat from the zero. These symbols, while frequent on the reels, offer modest returns, with payouts triggered when three or more line up on the active paylines.
High-payout Symbols
Venturing into the realm of higher rewards, the high-payout symbols bring the game's theme to life. Dracula, depicted with a quirky touch featuring bright blue sunglasses, is a significant symbol, offering up to $1,000 for a sequence of five. The castle symbol follows, promising $500 for five on a line.
Additionally, there's a female vampire and a coyote symbol, which, though a puzzling addition, offers notable payouts. The ultimate symbol in this category is the 'Ooh Aah Dracula' logo, rewarding players with a whopping $5,000 for five on a line.
Special Symbols
The special symbols in Ooh Aah Dracula pokie hold the key to the game's unique features and bonuses. The bright 'wild' symbol stands out, substituting for all regular symbols to create winning combinations, with the exception of the scattered hearts.
The staked heart symbols, vividly portrayed as red hearts pierced by a stake, are integral to the game's main bonus. Collecting three or more of these staked heart symbols anywhere on the reels triggers the free spins feature, with the potential for even more spins and additional wild symbols based on the number of hearts collected.
Symbols Paytable
| | | |
| --- | --- | --- |
| Symbol | Payline | Maximum Payout |
| Ooh Aah Dracula | x5 | 5,000x |
| Dracula in Sunnies  | x5 | 1,000x |
| Dracula's Castle | x5 | 500x |
| Female Vamp | x5 | 200x |
| Coyote | x5 | 200x |
| A | x5 | 150x |
| K | x5 | 150x |
| Q | x5 | 100x |
| J  | x5 | 100x |
| 10 | x5 | 100x |
Ooh Aah Dracula Pokie Bonuses
In the Ooh Aah Dracula pokie, bonuses are where the magic truly happens, providing players with opportunities for substantial rewards. These bonuses have been intricately designed by Barcrest to enhance gameplay, offering both entertainment and increased chances of substantial wins.
From the free spins feature, which is centred around the heart symbols, to the intriguing graveyard and super graveyard bonuses tied to the high-roller option, each bonus brings its unique flavour to the game. To understand these bonuses better, let's explore each in detail, breaking them down into their respective components.
Free Spins Feature
At the heart of Ooh Aah Dracula's bonuses is the Free Spins feature. Triggered by landing three or more scattered heart symbols on the reels, this feature offers players a series of spins without deducting any credits. Upon securing three heart symbols, players are granted 15 free spins with a randomly chosen symbol turning wild for the duration of the spins. If a player is fortunate enough to land four heart symbols, they still commence with the initial 15 spins.
However, after this round, they have the choice to either collect their winnings or opt for an additional 10 spins with a new randomly chosen wild symbol. For the luckiest players who obtain five heart symbols, there's a third option. After completing the first two rounds of spins, they can trade in their winnings for a final set of 5 spins, during which three symbols are transformed into wilds. This tiered structure offers players strategic choices and maximises their winning potential.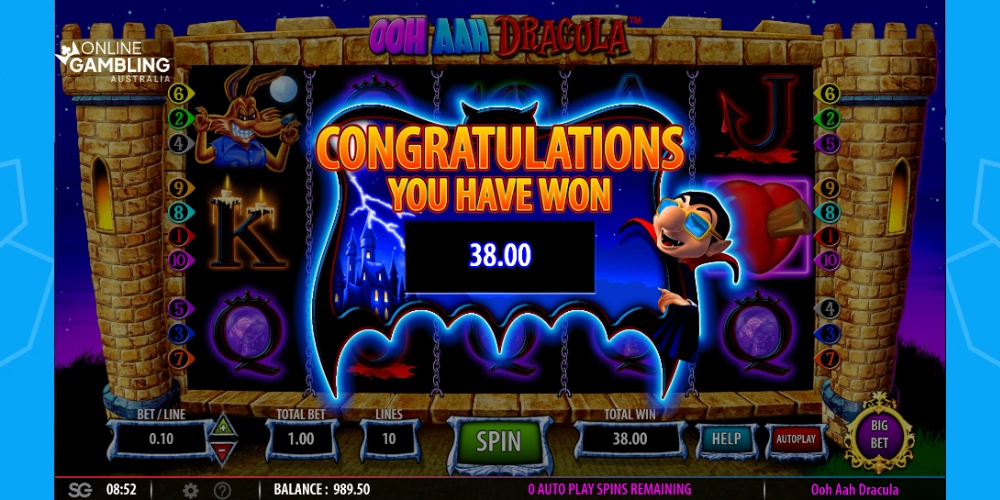 Graveyard & Super Graveyard Bonuses
These bonuses are exclusively tied to the high-roller options. Players who opt for the 'Big Bet' game by wagering $20 activate the Graveyard Bonus. This bonus kicks into action at the end of the free spins, provided they were triggered during the high-roller mode. In the Graveyard Bonus, players are presented with five gravestones and are prompted to select one. Each gravestone conceals a number of ghosts, which equate to cash prizes.
On the other hand, for those willing to up their stakes with a $30 'Big Bet', the Super Graveyard Bonus is activated. This is a heightened version of the graveyard bonus, with six gravestones on offer. Again, players select a gravestone, with each ghost symbol being worth $1.00. Both these bonuses offer players instant cash rewards, making the high-roller option more appealing.
Best Strategy Indicator
Unique to Ooh Aah Dracula is the Best Strategy Indicator. This feature aids players in making statistically informed decisions during the game. Presented as a hand that leans either left or right, the indicator suggests whether it's more strategic to collect current winnings or to progress to the next round. While it offers guidance based on average win values, it's essential to remember that it doesn't guarantee outcomes in individual games. Players are encouraged to use this feature judiciously.
More Bites to Come: A Fangtastic Ooh Aah Dracula Adventure!
Ooh, Aah Dracula by Barcrest is a delightful fusion of humour, captivating gameplay, and promising rewards. It proudly stands out in the vast landscape of online pokies, offering players an immersive experience that goes beyond mere gambling. Ooh Aah Dracula is a tantalising pick for pokie aficionados, whether you're just dipping your toes or have been spinning the reels for years.
While its medium volatility offers a balanced blend of win frequencies and prize amounts, it ensures a steady excitement that keeps players engaged throughout their gaming session. Adding to this suspense is the unique reel-spinning mechanic; the reels take their time to come to a halt after each spin, stopping one by one. While this might test the patience of some, it undoubtedly heightens the anticipation and drama of the gameplay.
Whether you're in it for the fun, the potential rewards, or the nail-biting suspense, Ooh Aah Dracula ensures every visit to Dracula's quirky castle is a memorable one.
Frequently asked questions
What makes Ooh Aah Dracula stand out from other pokies?
Beyond its whimsical and humorous take on the classic Dracula theme, the game offers unique bonuses like the Best Strategy Indicator and a high-roller option that promises an impressive return to player (RTP) of up to 99%. This blend of entertainment and potential returns sets it apart.
Are there any unique game mechanics in Ooh Aah Dracula?
Yes, one unique feature is the way the reels come to a stop. Instead of halting simultaneously, they stop one by one, adding a layer of suspense to each spin as players anticipate the final outcome.
How does the 'Big Bet' feature work in Ooh Aah Dracula?
The 'Big Bet' feature offers players the opportunity to place higher stakes for a series of five spins. Depending on the amount wagered, either $20 or $30, players can activate additional bonus features like the Graveyard or Super Graveyard Bonus, enhancing their chances of securing significant wins.
Can I influence the outcome of the Free Spins feature?
While the outcome is based on chance, the number of heart symbols you land determines the structure of your free spins. The game offers strategic choices after rounds of spins, allowing players to potentially collect winnings or opt for additional spins with more wild symbols.
What's the significance of the heart symbols in the game?
The heart symbols, depicted as red hearts with stakes through them, are the key to triggering the Free Spins feature. Collecting three or more activates a series of spins, with added strategic layers depending on the number of heart symbols secured.
How does the Best Strategy Indicator assist players?
The Best Strategy Indicator provides players with a statistical recommendation on whether to collect current winnings or move on to the next bonus round. While it doesn't guarantee a win, it offers guidance based on potential average returns.
Are there any limits on wins in Ooh Aah Dracula?
Yes, any combination of wins in a single game is capped and will not exceed 250,000 credits. This limit ensures fair play and prevents excessive wins from any single-stake configuration.