Pros and Cons
Pros

Unique Split Symbols feature enhances win potential
High volatility coupled with a favourable RTP
Wide dynamic betting range
Visually appealing design
Enticing balance of nostalgia and modern gameplay elements
Max win of up to 20,000x
Cons

Bonus Buy feature's RTP is only activated when utilised
Lack of bonus features compared to other pokies
Joker Split Review
In the world of online gambling, Joker Split by Relax Gaming is a refreshing blend of the age-old charm of Joker symbols and state-of-the-art game mechanics. Set against a backdrop of vibrant colours, the pokie offers players a visual delight with sharp graphics and well-synchronised sound effects that enhance the gaming experience.
This pokie is a clear reflection of Relax Gaming's prowess in innovating while preserving the essence of traditional pokie themes. For aficionados of online pokies, Joker Split stands as an indicator of the evolution of gaming, seamlessly weaving past nostalgia with modern-day features.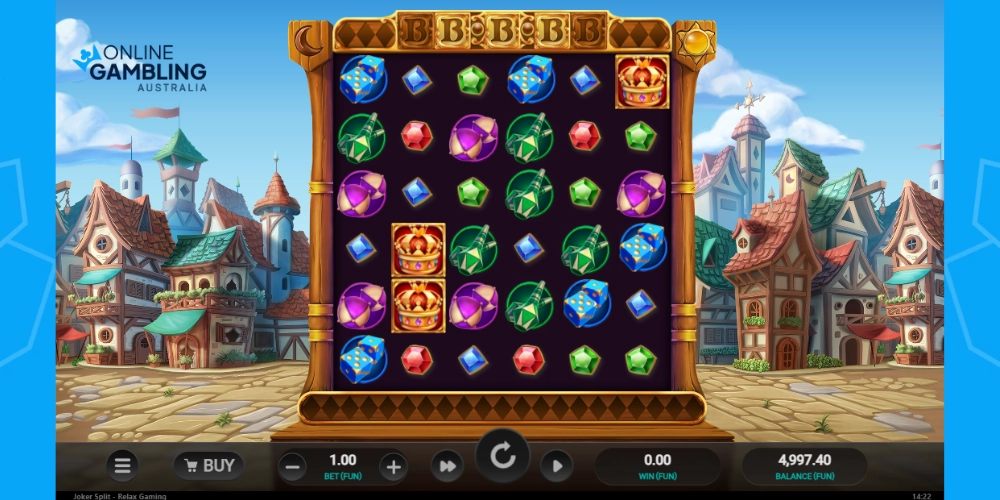 How to Play Joker Split
Engaging with Joker Split offers players a journey through familiar terrains with a touch of novelty. The pokie runs on a traditional reel system adorned with classic symbols. What sets this pokie apart is the distinctive "Splitting Wild Re-Spins" feature. When wild symbols become part of a win, they leap out of their reel positions, duplicate, and initiate a respin. As this respin unfolds, the wilds from the prior spin return to the reels. If these re-emerging wilds settle on positions already housing wilds, their multipliers merge, boosting the possibility for more substantial wins.
The game boasts an RTP of 96.1%, suggesting favourable returns over extended play. Players should also be mindful of its high volatility though, which might lead to significant swings in their gaming balance.
Wins can soar up to a staggering 20,000x in a single spin, presenting a tantalising prospect for those chasing big rewards. Bets can range from a modest $0.10 to a maximum of $50, accommodating both cautious players and high rollers alike. The game additionally offers other features such as wild symbols, represented by Jokers, which can substitute for other symbols.
Basic Information
Pokie

Joker Split

Software

Relax Gaming

Release Date

September 2023

RTP

96.1%

Volatility

High

Maximum Win

20,000x

Minimum Bet

$0.10

Maximum Bet

$50

Payline

Clusters

Reels

6

Jackpot

No

Free Spin

Yes
Joker Split Pokie Symbols
Symbols in Joker Split transport players to a vibrant mediaeval city, where jokers, also known as jesters or fools, take centre stage. In this setting, these characters, historically known for entertaining royal courts, come alive on the reels, accompanied by a range of other carefully designed symbols. From gemstones to mediaeval objects and the golden crown, every symbol has been crafted to immerse players in this bygone age while promising conceivable rewards.
Low-payout Symbols
The pokie's low-paying symbols consist of shimmering gemstones in the colours red, blue, and green. These gemstones, reminiscent of treasures from mediaeval times, offer modest rewards. Specifically, landing 15 or more of the same gemstone type in a cluster rewards players with 10x their bet, ensuring that even the more commonly appearing symbols can lead to significant payouts.
High-payout Symbols
Joker Split's high-payout symbols include mediaeval-themed icons like dice, balls, and batons. These symbols, integral to the jester's toolkit, promise heftier rewards compared to the gemstones. Landing fifteen or more of these symbol types in a cluster can yield a payout of 20x the bet. The golden crown stands out as the highest-paying symbol; securing 15 or more of these regal icons gives a handsome reward of 30x the bet.
Special Symbols
The Joker, true to its namesake, plays a pivotal role in this pokie. Acting as the game's wild symbol, the Joker can substitute for other paying symbols, apart from the scatter, to facilitate winning combinations. Moreover, these wild symbols can land with multipliers, amplifying the wins they're part of.
If a win involves multiple multiplier wilds, their multipliers combine before being added to the win. The golden "B" represents the game's scatter symbol, pivotal for triggering the free spins feature.
Symbols Paytable
| | | |
| --- | --- | --- |
| Symbol | Payline | Maximum Payout |
| Jeweled Crown | 15+ | 30x |
| Balls | 15+ | 20x |
| Clubs | 15+ | 20x |
| Dice | 15+ | 20x |
| Red Gem | 15+ | 10x |
| Blue Gem | 15+ | 10x |
| Green Gem | 15+ | 10x |
Joker Split Pokie Bonuses
In Joker Split, the mediaeval festivities reach their pinnacle through the game's enticing bonuses. These special features are not just about adding more zest to the gameplay, but they also enhance the chance for significant wins.
From wild symbols that split and multiply to free spins that come with their unique quirks, each bonus is a gateway to bigger rewards. The intricacies of these free spin bonuses, how they're triggered, and their pathways to wins are explored in depth below—
Free Spins
Activated by landing three or more golden "B" scatter symbols, the Free Spins feature promises a series of spins at no additional cost. The number of free spins awarded is contingent on the number of scatter symbols that triggered the feature. Specifically, landing 3, 4, or 5 scatter symbols yields 5, 6, or 7 free spins respectively.
But the excitement doesn't end there. Within this feature, any scatter symbol that appears adds an additional free spin to the tally. During these spins, wild symbols that don't contribute to a win are stored in a special container on the game's left.
With the first respin of every free spin, all these gathered wilds transform into basic wilds and make their way back to the reels, enhancing the chances of forming winning combinations.
Buy Extra Spin
After the Free Spins feature concludes, if the full multiplier on the stored wilds is below 200x, players have the option to purchase an additional spin. This "Buy Extra Spin" feature allows players to potentially increase their winnings. The cost of this additional spin is determined by the complete multiplier of the stored wilds, starting at 10x for no stored wilds and going up to 410x for a complete multiplier of precisely 200x.
Bonus Buy
For players eager to dive straight into the Free Spins feature without waiting for it to be naturally triggered, there's the "Bonus Buy" option. By paying a premium of 100x the bet, players can instantly activate the Free Spins feature. It's a shortcut for those looking to experience the thrill of free spins without the preamble.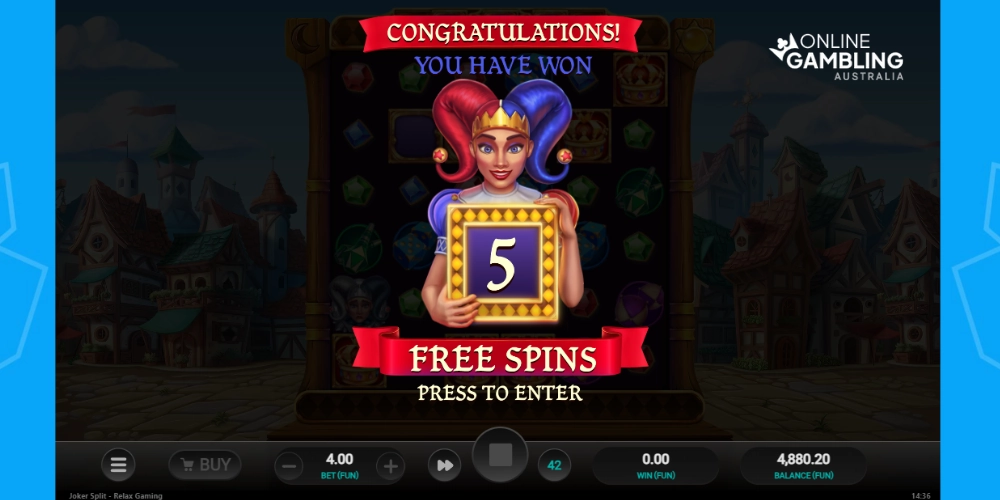 Wrapping Up the Joker's Festivities
Joker Split by Relax Gaming is more than just another addition to the world of online casino games. It's an invigorating fusion of historical allure with modern-day gaming mechanics. As players embark on this mediaeval adventure, they're greeted by the enchanting sights and sounds of a bygone era, punctuated by the mischievous antics of jokers.
The innovative features, such as the Splitting Wild Re-Spins, not only enhance gameplay but also elevate the prospect of lucrative rewards. The game's high volatility might be a rollercoaster for some, but with the promise of wins up to a staggering 20,000x the bet, it's a ride many would be willing to take.
The game's design, theme, and mechanics come together harmoniously, reflecting Relax Gaming's commitment to delivering an unparalleled gaming experience. Whether you're new to the world of pokies or a veteran player, Joker Split promises a remarkable gambling journey, brimming with excitement, anticipation, and the perpetual allure of securing that substantial win. If on the other hand, you would prefer something more modern, you might want to try out Top Dawg$ by the same provider.
Frequently asked questions
Who is the developer behind Joker Split?
Joker Split was developed by Relax Gaming, a renowned gaming software provider known for creating innovative and engaging online pokies.
How does the Cluster Pays mechanic in Joker Split work?
In Joker Split, wins are generated when 5 or more of the same symbol type land adjacent to each other either horizontally or vertically, forming a cluster. The larger the cluster, the bigger the probable win.
What's the significance of the Joker in the game?
The Joker acts as the wild symbol in Joker Split. It can substitute for other symbols to help form winning combinations. Additionally, when involved in wins, it can come with multipliers that enhance the payout.
Are there any multipliers in Joker Split?
Yes, the game features multipliers, especially associated with wild symbols. When these wilds are involved in wins, they can carry multipliers that amplify the resulting payout.
How does the Buy Extra Spin feature work?
After the Free Spins feature concludes, if the full multiplier on stored wilds is less than 200X, players can opt to purchase an extra spin. The cost of this spin is based on the full multiplier of the stored wilds.
Can I adjust my bet size in Joker Split?
Yes, players have flexibility in choosing their bet size in Joker Split. The minimum bet starts at $0.10, and players can wager up to a maximum of $50 per spin.
What sets Joker Split apart from other Joker-themed pokies?
Joker Split offers a unique blend of the classic Joker theme with innovative features like the Splitting Wild Re-Spins and Cluster Pays mechanic. Combined with high volatility and a potential win of up to 20,000x the bet, it provides a fresh take on the familiar Joker theme.