Pros and Cons
Pros

Book symbol doubles as both wild and scatter
Respin a reel after each base spin for more chances to win
Win up to 25 Free Spins
Expanding symbols increase wins during Free Spins
Cons

Respin feature comes at an additional cost
Book of Oz Pokie Review
Crafted by the renowned software provider, Microgaming, Book of Oz is a gem in the world of online pokies. This game whisks players away to the magical realm of Oz, with its modern spin on classic tales. The backdrop, awash in emerald greens and glistening golds, paints a picture of grandeur and mystique.
Audibly, Book of Oz enchants with melodic tunes, heightening the excitement of each spin with dramatic sound cues for wins and bonuses. On the visual front, the game boasts crisp graphics and meticulously designed symbols, ranging from classic card icons to the more thematic representations of Oz.
In essence, Book of Oz is more than just a pokie; it's a visual and auditory journey, ensuring players are engrossed from the first spin to the last.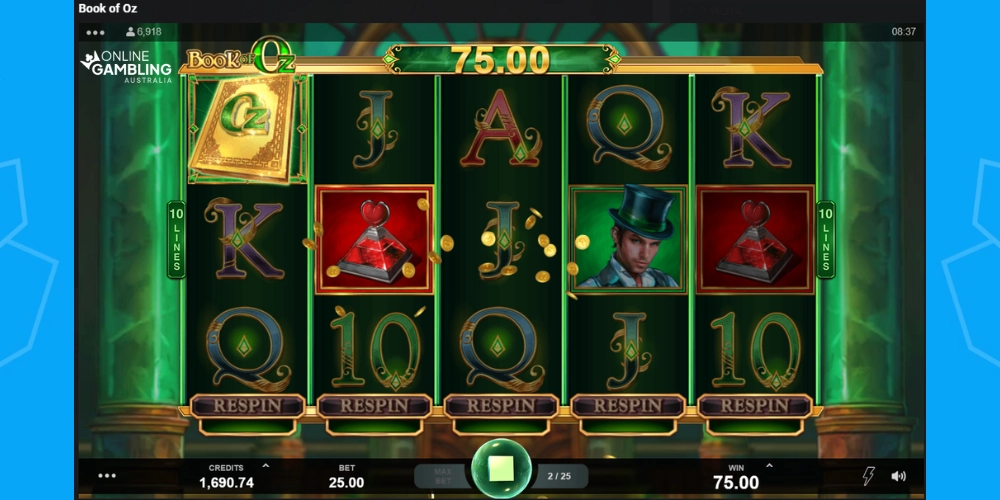 How to Play Book of Oz
Commencing your Book of Oz journey is simply a breeze, start by adjusting your bet, which ranges from $0.01 up to $25. The minimum bet of $0.01 qualifies this awesome pokie as a 1 cent pokie which is all the rave right now, suitable for those with smaller gambling budgets or those who wish to play for a little fun.
With 10 paylines set across 5 reels, there are numerous chances for wins. The game presents an RTP of 96.31%, suggesting a balanced mix of frequent smaller wins and occasional bigger rewards. One of the standout features is the ability to respin a specific reel after each spin, offering a strategic edge to the gameplay. As you continue to explore the game, the upcoming sections will detail the essential information and the symbols that dot the reels of the Book of Oz pokie.
Basic Information
Pokie

Book of Oz

Software

Microgaming

Release Date

September 2019

RTP

96.31%

Volatility

Volatility

Maximum Win

125,000x

Min Bet

$0.01

Max Bet

$25

Payline

10

Reels

5

Jackpot

No

Free Spins

Yes
Book of Oz Pokie Symbols
Symbols play a pivotal role in any pokie, and Book of Oz is no exception. Each symbol in this game carries its own significance, contributing to the narrative and the potential wins. From symbols that resonate with the theme of Oz to the standard card symbols, there's a rich tapestry of icons that players will encounter.
Low-payout Symbols
These are the typical card symbols from ace to 10, which, while offering lower payouts compared to thematic symbols, appear frequently and can accumulate to create substantial wins over time.
High-payout Symbols
In Book of Oz, the high-payout symbols are emblematic of the game's rich theme. Leading the pack is the Wizard, representing wisdom and the epitome of magical prowess.
Following closely are the potent elixirs: the Blue Courage Potion, symbolising bravery; the Pink Key Potion, hinting at the mysteries and treasures of Oz; and the Red Heart Potion, a vibrant representation of love and passion. These symbols not only offer substantial rewards but also deepen the player's connection to the enchanting world of Oz.
Special Symbols
The Book of Oz boasts special symbols that serve dual purposes. The Book symbol, for instance, acts as both a wild and a scatter. As a wild, it substitutes for other symbols to help form wins. As a scatter, it has the power to trigger the Free Spins feature, further enhancing the potential for big wins.
Symbols Paytable
| | | |
| --- | --- | --- |
| Symbol | Payline | Maximum Payout |
| Wizard  | 5x | 250x |
| Blue Courage potion | 5x | 100x |
| Pink Key Potion | 5x | 37.5x |
| Red Heart Potion | 5x | 37.5x |
| A | 5x | 7.5x |
| K | 5x | 7.5x |
| Q | 5x | 5x |
| J | 5x | 5x |
| 10 | 5x | 5x |
Book of Oz Pokie Bonuses
In the mesmerising world of Book of Oz, bonuses play a pivotal role in amplifying the player's journey, making it not just about spinning the reels but also about unlocking magical surprises. These bonuses, each with its distinct charm, are instrumental in elevating the game's allure and potential rewards.
Whether it's the allure of the Free Spins, triggered by the enigmatic Book symbols acting as scatters, or the strategic advantage offered by the Respins feature, each bonus in Book of Oz holds the promise of transforming an ordinary spin into something extraordinary. As we navigate further, we'll go into the specifics of each of these captivating bonuses.
Free Spins
One of the standout features in Book of Oz that heightens the excitement is the Free Spins round. This feature adds a layer of anticipation every time players spin the reels, knowing that a significant reward could be just around the corner. Free Spins not only give players additional chances to win without placing further bets, but they also introduce an added dimension to the gameplay. With every spin in this bonus round, the possibility of landing significant wins becomes ever more tangible, enhancing the overall enjoyment and making the game even more compelling.
Scatter: Free Spins Trigger
The key to unlocking the Free Spins lies in the Book symbols, which act as scatters. When these symbols grace the reels in sufficient numbers, they pave the way for the exciting Free Spins round. The more Book symbols you land, the more free spins you're awarded, making these symbols some of the most sought-after in the entire game.
| | | |
| --- | --- | --- |
| Number of Scatters  | Pays | Triggers  |
| 5 | 100 | 25 Free Spins |
| 4 | 10 | 12 Free Spins |
| 3 | 1 | 10 Free Spins |
Respins
Another intriguing aspect of Book of Oz is the Respin feature. This feature allows players the choice to respin any individual reel after each base game spin. This offers a strategic component to the gameplay, enabling players to potentially enhance winning combinations or aim for those elusive special symbols.
While the Respin feature provides an opportunity to boost winnings, it's essential to approach it with caution, as each respin comes at an additional cost. The price for each respin is displayed below the respective reel, allowing players to make informed decisions on whether to utilise this feature. It's a balance of strategy and intuition, making each spin in Book of Oz a thrilling endeavour.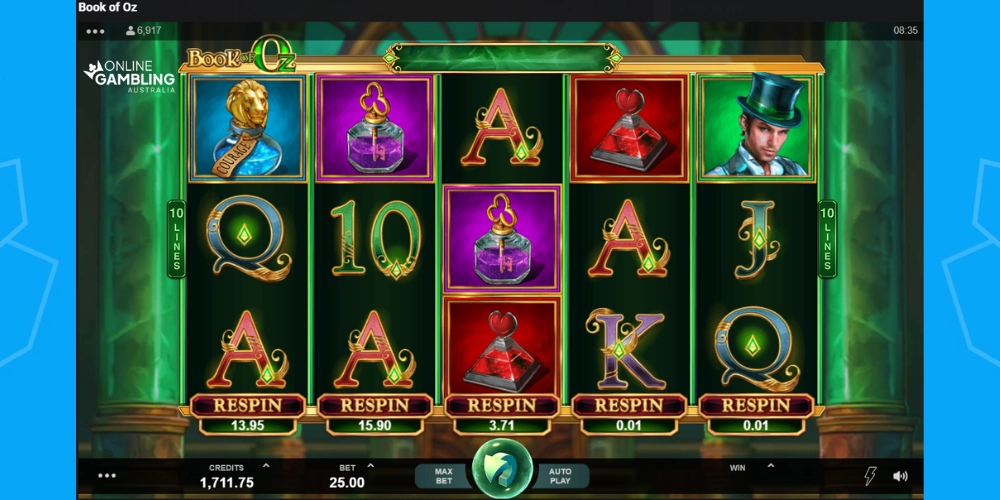 From Emerald Cities to Golden Wins: Our Journey Through Oz Continues
The Book of Oz pokie, with its blend of enchanting visuals, resonant sounds, and rewarding gameplay, stands as a testament to Microgaming's prowess in the online gaming industry. From its meticulously crafted symbols to the strategic depth added by features like Respins and Free Spins, this game offers a comprehensive experience that caters to both novices and seasoned players.
Each spin is a step into a magical realm, where fortunes might just be a reel away. As online pokies continue to evolve, Book of Oz undoubtedly sets a benchmark, combining traditional pokie elements with innovative features, ensuring players return for more adventures in the land of Oz. If you enjoyed this Microgaming pokie, why not try out other fun titles such as Mermaids Millions or Game of Thrones amongst many others?
Frequently asked questions
Who is the developer behind the Book of Oz pokie?
Book of Oz is a creation of Microgaming, a leading software provider known for its innovative and high-quality pokies in the online gaming industry.
How does the Respin feature in Book of Oz differ from other games?
The Respin feature in Book of Oz stands out as it allows players to respin individual reels independently after each spin, offering a chance to strategically enhance potential wins. While this feature comes at an additional cost, it's a unique twist that adds a layer of decision-making to each spin.
Q: Are there any multipliers in the Book of Oz pokie?
While Book of Oz doesn't feature traditional multipliers, the expanding symbols during the Free Spins round can lead to bigger wins, compensating for the lack of direct multipliers.
Q: What kind of win potential does the Book of Oz offer?
Book of Oz offers players a chance to win up to 125,000x their stake, making it a highly rewarding game for those who land the right combinations.
Can I adjust the number of paylines in the game?
No, Book of Oz comes with a fixed number of 10 paylines. This means that all 10 paylines are active during each spin, maximising win potential.
What makes the Book symbol so special in this pokie?
The Book symbol in Book of Oz is multifaceted. Not only does it serve as a wild, substituting for other symbols to help create winning combinations, but it also acts as a scatter. This dual nature elevates its importance, making it a crucial symbol to watch out for during gameplay.
How does Book of Oz maintain player engagement throughout gameplay?
Book of Oz captivates players with its combination of stunning visuals, enchanting sound effects, and unique game features like the Respin option. Each spin offers the potential for surprises, ensuring that players remain intrigued and entertained throughout their gaming session.