Top Online Casinos for Playing Live Football Studio
In the vast Australian online gambling landscape, pinpointing a premium platform can indeed be a challenge. With an overflow of choices, players yearn for a safe haven that not only promises security but also offers the perks befitting a top-shelf online casino. The good news is, our scrupulous online casino reviews are tailored to highlight the best choices for Australian players. Want to know where to find Live Football Studio? Check out our esteemed list below.
What is Live Football Studio?
Drawing inspiration from Dragon Tiger, Live Football Studio introduces a football twist, masterfully crafted by Evolution Gaming. The game dazzles with its simplicity; the dealer draws two cards, distributing one to each player. These players, representing the home and away teams, position themselves at opposite ends of the pitch. Once the cards are on the table, players can place bets on a home win, draw, or away win.
The sights and sounds of the game transport players straight to a football stadium, complete with vibrant colours, thematic sounds, and lively hosts. The game boasts an RTP of 96.27% for home and away bets, while draws, which are less frequent, come with an RTP of 89.64%. Remember, it's not just about the luck of the draw, but also the strategy.
The Developer of Live Football Studio
Evolution Gaming, the brains behind Live Football Studio, released this gem in June 2018. Known for their knack of blending innovation with entertainment, the studio's venture into merging football with a card game has been nothing short of a masterpiece.
While there's a lot more to explore about Evolution Gaming, it's this particular creation that showcases its commitment to providing unique gaming experiences. Collaborations and other specifics related to this game are a testament to Evolution Gaming's relentless pursuit of excellence in the iGaming industry.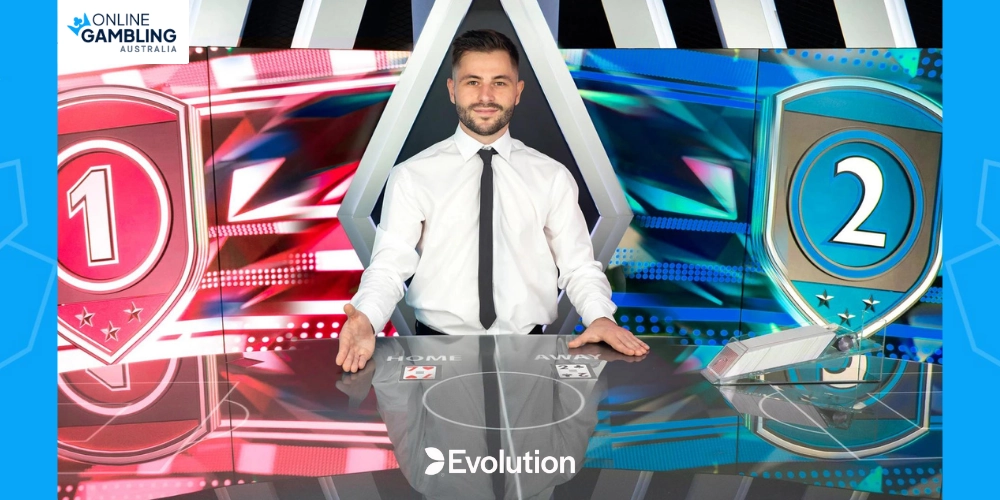 How to Play Live Football Studio Live
Merging the strategic depths of card games with the adrenaline rush of football, Live Football Studio offers players a unique gaming experience. But how does one harness this blend to ensure consistent victories? Here's a breakdown to guide players through the intricacies of the game:
Setup & Ambiance: As you launch Live Football Studio, you're greeted with a football pitch-shaped table, setting the stage for the action to come.
Card Dealing: The dealer draws two cards from the decks. Each card is then allocated to a player, symbolising either the home or away team.
Betting Options: Players are presented with three primary betting choices:
Home Win: Bet on the home team card having a higher value.
Away Win: Wager on the away team card outscoring the home card.
Draw: Anticipate that both cards will have equal value. This bet offers the highest payout, reflecting its rarity.
Live Interaction: Engage with the dealer through the live chat feature. The dealers, well-versed in football, elevate the experience, making gameplay more interactive and lively.
Outcome & Payout: Once bets are placed, the card values are compared. Winnings are distributed based on the bet type and the game's payout structure.
Live Football Studio Bonuses
While Live Football Studio doesn't overflow with a feast of bonuses, it offers a distinctive betting system that can be lucrative for players. The draw bet, although rare, packs a punch with a maximum payout of 11:1. This bet, combined with the home and away bets, provides players with ample opportunities to strategise and maximise their winnings.
The beauty of the game lies not just in the potential rewards but also in the immersive football experience it delivers.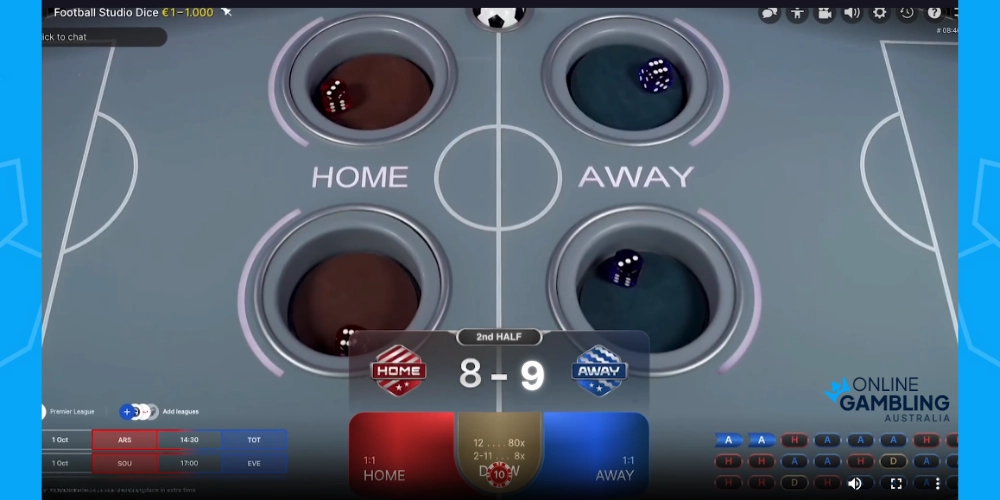 Strategy & Tips for Playing Live Football Studio Live
In the realm of Live Football Studio, while chance plays its part, strategic insight can tilt the odds in your favour. The game, at its core, is simple, but understanding its nuances can be the difference between a win and a loss. Here are some key strategies and tips to consider:
Master the Betting Odds
The game offers three primary betting options: home win, away win, and draw. While the draw bet boasts the highest payout at 11:1, it's also the rarest outcome. It's essential to strike a balance between the potential reward and the likelihood of an outcome. Regularly betting on a draw might not be the most strategic move, given its lower RTP of 89.64%.
Engaging with the Dealer
The live chat feature isn't just for football banter. Engaging with the dealer can offer insights into the game, gameplay patterns, or even just a morale boost. Remember, they're well-versed in the game and can provide valuable tidbits.
Never Bet with Your Heart
It's easy to get swept up in the excitement, especially when football is involved. However, letting emotions drive your decisions can lead to unnecessary losses. Always approach the game with a clear mind and objective strategy.
Have a Strategy
Just as with any casino game, online or otherwise, having a solid strategy in place can increase your chances of success. Whether it's setting a budget, choosing when to place certain bets, or knowing when to walk away, always play with a plan.
Where Football Fever Meets Casino: Kicking Goals with Every Card
Live Football Studio serves as a testament to Evolution Gaming's prowess in delivering innovative live casino gambling experiences. Bridging the gap between the thrill of football and the strategy of card games, this title stands out in the crowded casino game landscape. The football-themed commentary, combined with the game's simplicity, creates an enticing package for both card game enthusiasts and football fans alike. It's not surprising to see that so many different online casinos like Betibet have added this game to its library.
It's essential to note that while the game's theme is refreshingly unique, its bonuses are limited compared to some other casino offerings. This might be a minor setback for those seeking an array of bonus features, but the game's core appeal lies in its unique theme and engaging gameplay.
In conclusion, Live Football Studio is a must-try for those looking to experience something different in the online casino realm. Just remember to play responsibly, and you might just score big!
Frequently asked questions
Who is the creator of Live Football Studio?
Live Football Studio is a brainchild of Evolution Gaming, a leading name in the iGaming industry known for its innovative live casino experiences.
Is there any interaction in Live Football Studio?
Yes, Live Football Studio offers a real-time live chat feature. This allows players to engage directly with the dealer and discuss a range of topics, from gameplay strategies to the latest football updates. It adds a social element to the game, enhancing the overall experience.
How does the game's RTP compare to other card games?
Live Football Studio boasts a competitive RTP of 96.27% for home and away bets. However, the draw bet has a slightly lower RTP of 89.64% due to its rarity.
Are there any unique features that enhance the gaming experience?
One standout feature is the football-themed commentary. It not only elevates the gaming atmosphere but also allows players to indulge in football discussions, adding a layer of immersion to the experience.
What's the betting range in Live Football Studio?
The game caters to a wide range of players, with minimum bets starting at $1 and going up to a maximum of $5,000.
What is the maximum win for Live Football Studio?
The highest payout in Live Football Studio is achieved with the "Draw" bet, offering an impressive 11:1 payout. This means if you bet $100 on a draw and it occurs, you could win $1,100.
Does Live Football Studio involve playing football?
No, Live Football Studio doesn't involve playing football. It's a card-based casino game with a football theme. The ambience, commentary, and design elements are football-inspired, but gameplay revolves around card bets.
Do I need to know football rules to play Live Football Studio?
Not at all! While the game has a football theme, it's primarily a card game. Understanding football can enhance the immersive experience due to the thematic elements, but it's not a prerequisite for playing or enjoying the game.