Where to Play Red Queen in Australia
Choosing a superb online gambling platform is paramount for players seeking the optimal online gambling experience. Quality casinos ensure not only a vast array of quality online casino games like Red Queen, but also a secure, fair, and user-friendly environment. These online casinos prioritise player satisfaction, offering seamless gameplay, reliable customer support, and swift payment processes. Below, you'll find a showcase of the leading platforms in Australia.
What is Red Queen?
Red Queen is a unique online casino game developed by Evoplay Entertainment. This casino game revolves around a three-card system where players aim to find the Queen of Hearts. Its simplicity makes it an ideal choice for players looking for a quick yet enjoyable gambling session, serving as a delightful break from other casino games that demand more strategy and concentration.
EvoPlay: The Developer
Evoplay is a groundbreaking iGaming development studio, renowned for not just creating exceptional games but also for its unparalleled service. Established as an industry leader, Evoplay's reputation shines through its award-winning portfolio and global presence.
The company is committed to pushing the boundaries of game development, having crafted over 200 unique titles that consistently rank as players' top choices. With a presence in 41 countries and a dedication to innovation, Evoplay is not just shaping the present of iGaming but also defining its future.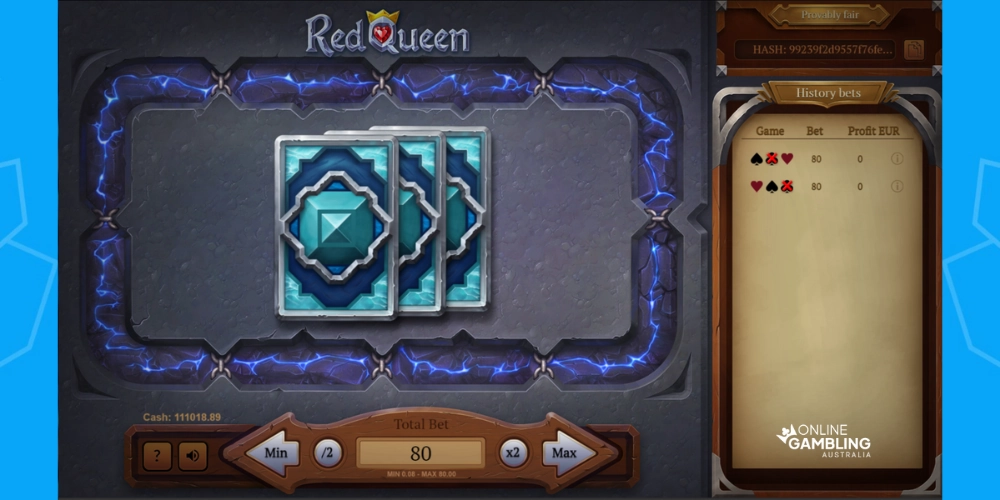 Game Specifications & Gameplay
Red Queen, developed by Evoplay Entertainment, offers players a unique twist on the standard casino game. Red Queen is an insta game centred around a three-card system, focusing on the Queen of Hearts. The objective is simple: after a shuffle, players select a card, hoping it's the Queen of Hearts. A correct guess rewards players with their initial bet multiplied by x2.88. The game's audio elements are subtle, mainly consisting of card shuffling and a chime for successful guesses.
Visually, it presents a straightforward interface, complemented by easily accessible game controls, such as the mute button, rules, and bet counter. Players can also keep track of their gaming progress with the History bets field. With its medium volatility, players can expect a balance of frequent, modest wins with the occasional larger payout. The game's RTP is set at 96%, indicating a favourable return for players over an extended period.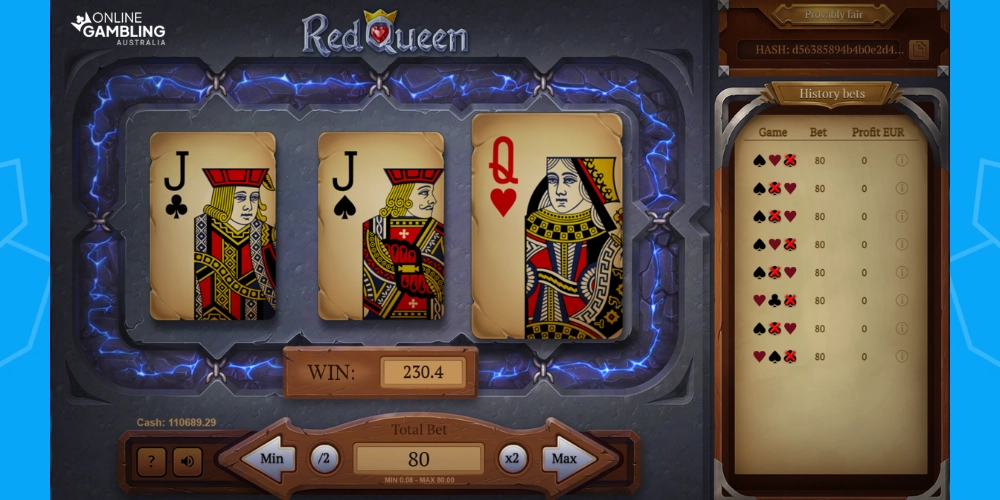 Shuffling Through the Red Queen Experience
Navigating the world of online casino games can sometimes be a maze of spinning reels and intricate strategies. But every once in a while, a gem like Red Queen emerges, reminding us of the sheer joy of simplicity. Developed by the creative minds at Evoplay Entertainment, this game offers a delightful detour from the usual, inviting players into a quick and straightforward card challenge.
No elaborate features, no convoluted rules—just pure, unadulterated fun. So, the next time you're seeking a quick gaming break, remember the Queen of Hearts is just a shuffle away!
Frequently asked questions
Who is the developer behind Red Queen?
Red Queen is developed by Evoplay Entertainment, a renowned iGaming development studio known for its innovative and visually appealing games.
What is the main theme of the Red Queen game?
Red Queen revolves around a card-centric theme, focusing specifically on a three-card system with the Queen of Hearts as the central figure.
How do you play Red Queen?
The gameplay is simple. After the cards are shuffled, players select one of the three cards, hoping to reveal the Queen of Hearts. A correct guess rewards players with their initial bet multiplied by x2.88.
What's the RTP for Red Queen?
The theoretical Return to Player (RTP) percentage for Red Queen is set at 96%, which means players can expect a favourable return on their wagers over the long run.
Is there a special feature in Red Queen to boost winnings?
While Red Queen offers a straightforward gaming experience, players do have the opportunity to double their winnings by correctly guessing the position of the Queen of Hearts after a shuffle.
Can I play Red Queen at any online casino?
While Red Queen is available at many online casinos, it's always recommended to choose reputable platforms, especially those that have partnered with Evoplay Entertainment.
What's the volatility level of Red Queen?
Red Queen has a medium volatility level, which means players can expect a balance between frequent smaller wins and occasional larger payouts.