Pro's and cons
Like every other game in the gambling industry, it is not surprising to see that Grabba Dabba Dough has its pros and cons to it. Fortunately, though, there are more pros than cons. The following is a list of the pros and cons that we have about Grabba Dabba Dough.
Pro's

It features a progressive jackpot
It substitutes symbols with toys
It has a real arcade crane
Features multiple different bonuses
Con's

Players are not able to press auto-play
It has a rather below-average RTP
Looking For Something Different? Perfect!
If you are looking for a different style of casino game in Australia, then Grabba Dabba Dough is the game you should be looking at. Have you ever gone to a theme park and found yourself playing, or even watching, someone play an arcade game trying to win a fluffy toy? Well, Core Gaming, which is a gaming provider, has made it possible for you, as they released a game called Grabba Dabba Dough back in 2016 that enables you to do just that.
Such an arcade game was very popular back in the 90s, so if you're also looking at having that nostalgic feeling, or even if you just see how it used to be three decades ago, then Grabba Dabba Dough is a great way to do just that.
In this article, you will be able to see all the information that has to do with this unique casino game. After reading this informative article, you will be able to have a clear understanding if the game is for you or not. But don't be surprised if it is as it is really cool and entertaining.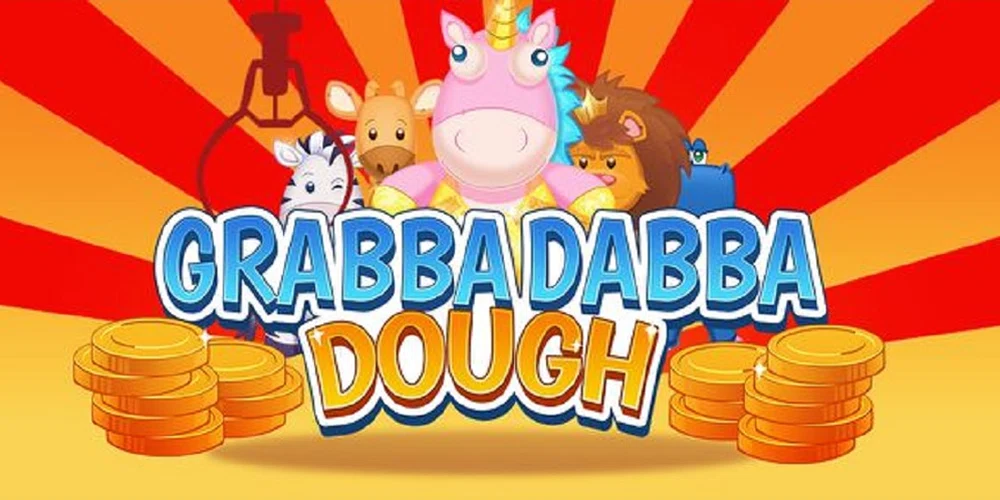 Overview of Grabba Dabba Dough
When opening the game, you will instantly find a large arcade claw machine that has multiple different stuffed animals inside it. The arcade claw machine is assumed to be located inside a purple lighted casino establishment, to make it feel as if you are back in the 90s playing inside of a physical casino. After the game is loaded you will also be greeted to a funny soundtrack.
The large arcade claw machine has a great design to it as it is quite colourful, flashy, and eye-catching nonetheless. You will also see that there is a screen in the back part of the machine. All sorts of things come up and most notably is the different stuffed animals and the prize money that you are able to get when winning in the round. The prize amount does change when changing the betting price.
Before being able to play this game, you first would need to have a gambling account with an Australian online casino that offers this game. Additionally you would need at least $0.50 in your account, due to the fact that the game's minimum bet is $0.50. It is also worth noting that this game allows a maximum bet of $10.
Points to Know About The Game
Below you will find a table that has some important facts about the game as for you to be able to have a clear idea of what to expect from this pokie game.
Release Date

12/12/2016

Type of Game

Video Slot

Return To Player (RTP)

85%

Variance

Low

Max Win

x1100

Min Bet

$0.50

Max Bet

$10

Betways

1

Mobile Friendly

Yes

Latest Update

10/06/2022
After Loading The Game
If you have the above requirements, then you are ready to start playing Grabba Dabba Dough. The first thing to look out for is the amount of money you wish to bet with. You will find it under the header "Total Stake". You can either press the big red button to decrease your total stake or the big green button to increase your total stake. It is really all down to your preference.
Are you ready to play? Have you chosen the amount you wish to bet with? Then let's go! As for the round to start all you need to do is click the big green "Play" button. After clicking that, a big claw that has three fingers will drop down and start moving forwards and backwards repeatedly. Then you have to click on the green "Stop" button. With this click, the claw will start moving right to left on repeat, until you click the green "Grab!" button.
The Claws
The three-fingered claw would then pick up a random stuffed animal. When picked up, the background screen would change to the animal that the claw picked up, as to show you the prize cash for that stuffed animal. Though this doesn't mean that you won that prize. Have you ever found yourself playing the arcade claw machine and exactly before your prize goes through the square hole to collect your prize, it falls down? Well, this is exactly the same with this game. So don't celebrate too early! But it sure does add to the thrill!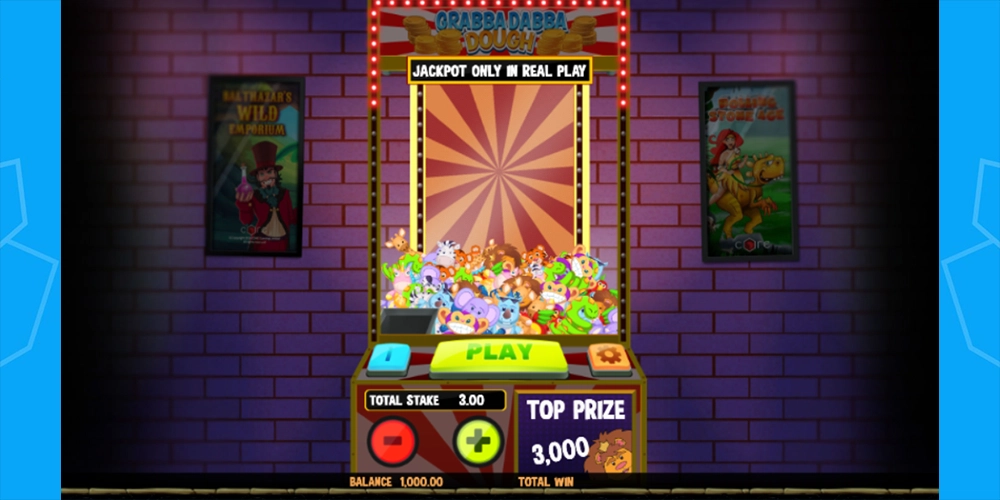 All Possible Outcomes
There are four main outcomes when playing Grabba Dabba Dough. These are the Solid Win, Double Win, Free Round, and Malfunction. Below you will find an explanation on each of these outcomes as to have a clear idea on what they are.
Solid Win: this occurs when the three fingered claw grabs a stuffed animal and successfully goes through the square shaped rabbit hole.
Double Win: sometimes the three fingered claw grabs two stuffed animals by "mistake" and successfully goes through the whole.
Free Round: when you see a stuffed animal holding a star and successfully goes through the whole with the stuffed animal, then you would be able to play a free round the next time you play.
Malfunction: It is the point at which the device fails to function and bursts into a shower of sparks. After that, the alarms would go off, and you'll not receive any toys.
Bonuses of the Toys?
As you may have figured out by now, there are several stuffed toy options that you may encounter when playing Grabba Dabba Dough. Core Gaming wanted to produce a game that had something different from the usual slots and table games. Instead of using the regular symbols, they opted for a number of different stuffed animal toys. Each toy has their very own value, with some being more special than others.
Starting off with the simple and usual stuffed animals. To be exact there are 9 of such animals, which are:
Snakes: x1
Zebras: x2
Elephants: x5
Giraffes: x10
Parrots: x20
Tigers: x50
Rhinos: x100
Dinosaurs: x500
Lions: x1000
Mystery Toy & Star Symbol
There is also a mystery toy. You will realise that the stuffed animal picked up by the claw is a mystery toy due to it being a purple stuffed monkey. You will also realise that in the background of the arcade machine, there would be the word "Mystery" as well. The mystery toy is able to give your round a multiplier between the range of x2 and x500.
The star symbol is also an additional special bonus. Although we have already covered this sort of bonus, here is some further information regarding it. Within the same round in which a stuffed animal with an attached star goes down the rabbit hole, you will have the opportunity to have a free go, which is equivalent to a free spin for pokies.
And finally, there are the unicorn stuffed animals. These unicorns do not have a specific type of bonus as it has the ability to trigger multiple different types of jackpots. If the three fingered claw were to grab a unicorn and put it down the rabbit whole, then you would win the current Progressive Jackpot.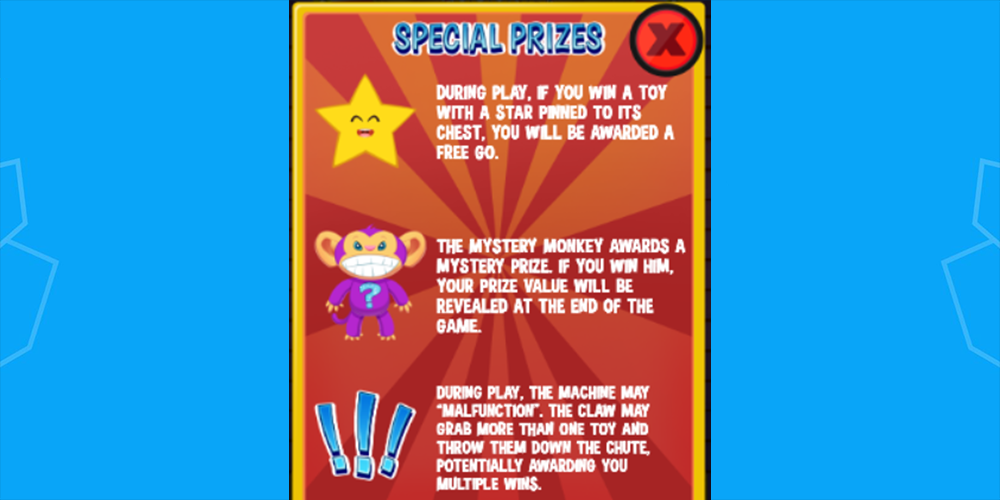 What is The Possibility of Getting a Jackpot?
This pokie machine has a jackpot with a starting amount of $1000. You have a chance to win much more than simply $1000 here due to the fact that the prize pool keeps growing over a period of time.
The estimated RTP for this game is somewhere near 85%, that means that the house has an edge of 15%. There's no denying that such odds aren't exactly on your side, but this isn't your average pokie machine. Because the highest payout in Grabba Dabba Dough is x1100 and the typical winning chances in the game are 1 in 4, and there is a really good chance that a player will get the jackpot.
To put it another way, the short answer is yes, it is possible to win the jackpot when playing Grabba Dabba Dough. Try it out for yourself and watch how things turn out.
So to Conclude, is the Game any Good?
If you are one that wants to play an online casino game that doesn't evolve enough strategy, and just wish to sit back, relax, and enjoy the game, then Grabba Dabba Dough is the game for you. The game provides immaculate visuals which are eye-catching and also has matching sounds in the background.
It has all the features an online casino game needs for it to be entertaining and enjoyable to play. Having bonuses and progressive jackpot really just makes the game better. It is the icing on the cake and we highly suggest you have a piece of it!
Frequently asked questions
Who Created and Developed Grabba Dabba Dough?
CORE Gaming is the gaming provider that is responsible for creating Grabba Dabba Dough. They constantly update and improve it to make sure that it is up to standard for casinos to offer and players to play.
What is The Minimum and Maximum Bet That You Can Place When Playing Grabba Dabba Dough?
To be able to play the game, you first have to have funds in your gambling account. The minimum possible bet accepted is $0.50 whilst the maximum possible bet accepted is $10.
Are There Any Bonuses in Grabba Dabba Dough?
Yes, there are! When playing this online casino game you are able to get bonus features in the form of three different items that are picked up by the claw; the Mystery Purple Monkey, the Jackpot sign, or the Free Spins sign.
What is The Max Possible Win in Grabba Dabba Dough?
The maximum win possible when playing Grabba Dabba Dough, excluding the progressive jackpot, is 1100 times your bet. If you bet $10 and end up with this win, congratulations, you're looking at an $11,000 win!
Is It Possible To Play Grabba Dabba Dough For Free?
Yes, it is! CORE Gaming has made it possible for players to play this game for free to be able to get a feel of the game prior to using real money.
Is Grabba Dabba Dough considered as a low RTP game?
Casinos have games of various RTPs ranging from the low 40s to the high 90s. Grabba Dabba Dough comes at 85%, which isn't too bad at first glance, but, for a game that very closely resembles a slot, considering it works using nothing but the push of a button and a random number generator, 85% is considered as a pretty low return to player percentage.