Top Casinos with the Best Wagering Requirements AU
When it comes to online casinos, Aussies truly stand out. And what's one critical factor they look for? Wagering requirements. These can significantly impact your gaming experience. Below, we've curated a list of the best online casinos, highlighting those with the most player-friendly wagering terms. Ready for the inside scoop? Let's go!
What Are Wagering Requirements?
A wager, in simple terms, refers to a bet or the amount of money a player places on a game.
Wagering requirements on the other hand are the conditions set by online casinos on bonuses they offer. Essentially, they dictate how many times you need to bet or 'wager' the bonus amount before you can withdraw any winnings derived from it. It's a mechanism used by casinos to ensure that players don't just claim a bonus and immediately cash out.
Understanding Wagering Terms
When you secure a bonus at an online casino, it typically comes with certain conditions – the most prevalent being the wagering requirements. Let's say you receive a bonus of $100 with a 10x wagering requirement. This means you would need to place bets totalling $1,000 (10 times the bonus amount) before you can withdraw any winnings from the bonus. If you don't meet these wagering requirements, the bonus and any potential winnings from it might be forfeited.
Additionally, these requirements often come with an expiration date, meaning you have a set period to meet them. It's also crucial to note that before you can claim many of these bonuses, a minimum deposit is usually required. Always read the terms and conditions associated with any bonus to ensure you fully understand the requirements and limitations.
How to Calculate Wagering Requirements
To determine how much you need to wager before cashing out, simply multiply the bonus amount by the wagering requirement. For instance, if you get a $50 bonus with a 20x wagering requirement, you'd have to wager a total of $1,000 ($50 x 20) before making a withdrawal. Always keep a keen eye on the wagering terms when claiming bonuses, as it significantly affects your gameplay strategy and potential returns.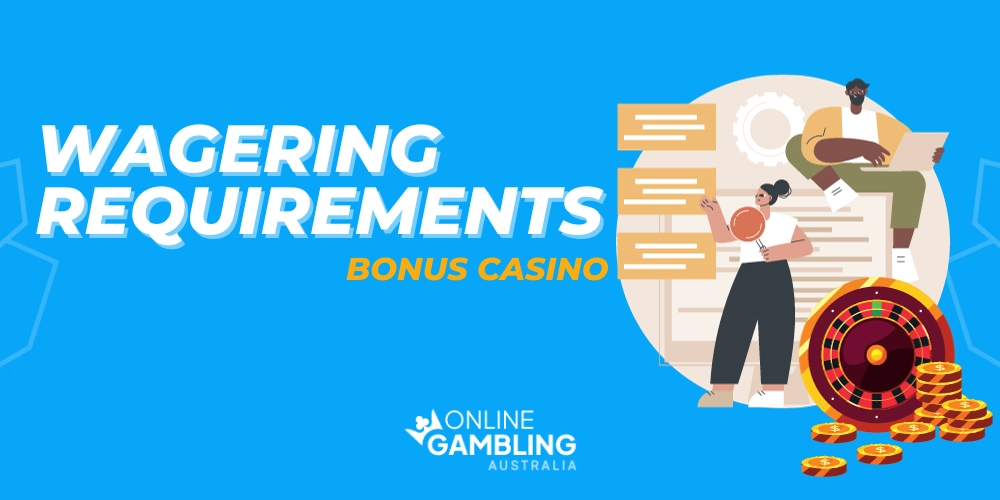 The Dynamics of Wagering Requirements Across Various Casino Bonuses
Online casino bonuses are a prominent feature of the online gambling landscape, designed to draw attention and reward players. However, each bonus type comes with its own set of wagering requirements, dictating how players should use the bonus. These conditions vary based on the nature and purpose of the bonus, making it crucial for players to comprehend the nuances associated with each.
Welcome Bonuses: Often the most generous, casino welcome bonuses are designed to draw new players. They might match a player's first deposit or even multiple initial deposits. The wagering requirements for these bonuses can be higher, reflecting their generous nature.
Example: An online casino offers a 100% match on your first deposit up to $100 with a 20x wagering requirement. If you deposit $100, you get an additional $100 as a bonus, but you'll need to wager $2,000 ($100 x 20) before you can withdraw any winnings from this bonus.
No Deposit Bonuses: These bonuses are granted without the need for a player to make a deposit. Given their 'free' nature, the wagering requirements for no-deposit bonuses can be stringent.
Example: A casino gives you a $10 no-deposit bonus with a 50x wagering requirement. This means you'd need to wager $500 (50 times $10) before you can cash out any winnings derived from this bonus.
Free Spins: Typically tied to pokies, free spins allow players a set number of free game rounds. The wagering requirements might apply to the winnings derived from these spins.
Example: You're awarded 50 free spins on a popular pokie. From those spins, you win $20. If the wagering requirement is 30x, you'd need to wager $600 (30 times $20) before withdrawing those winnings.
Reload Bonuses: These are bonuses given on subsequent deposits after the initial one. They're a way to reward loyal players. The wagering requirements for reload bonuses can be more relaxed than welcome bonuses.
Example: On your third deposit, the casino offers a 50% reload bonus up to $50. If you deposit $100, you get an extra $50. If the wagering requirement is 15x, you'd have to wager $750 (15 times $50) before cashing out.
Cashback Bonuses: Offered as a percentage of a player's losses over a certain period, casino cashback bonuses are a way to mitigate losses. The wagering requirements for these are generally lower.
Example: After playing for over a week, you've lost $200. The casino offers a 10% cashback bonus, giving you back $20. If the wagering requirement is 10x, you'd need to wager $200 (10 times $20) to withdraw any funds from this bonus.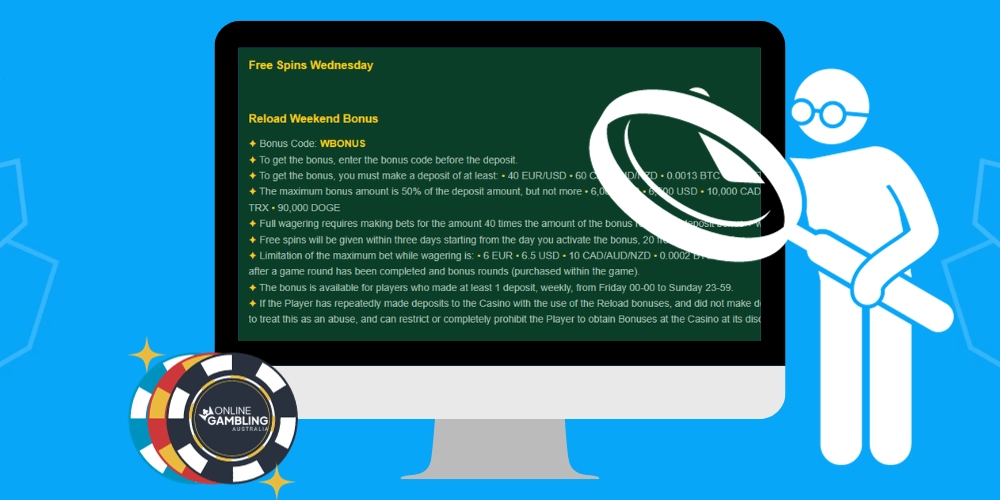 How to Meet & Beat Wagering Requirements at Online Casinos
Understanding wagering requirements at online casinos is the key to unlocking true gambling potential. With the right knowledge and strategies, turning these requirements into opportunities becomes an achievable task.
The world of online casino bonuses is vast and varied, and having a clear grasp of its intricacies can set you on a path to success. In the following sections, we'll break down the essentials, providing you with the tools to navigate the world of online casino bonuses confidently.
Selecting a Casino
The first step towards a fulfilling online casino experience is choosing the right platform. Trustworthy online casinos not only offer transparent wagering terms but are also backed by solid licences and have been vetted by third-party agencies. These establishments often provide bonuses with realistic and achievable requirements, which is a boon for players aiming to turn bonuses into real cash.
T&Cs
The terms and conditions aren't just fine print; they're the rulebook. Within this document, you'll find all the details on how the bonus works, including wagering requirements, maximum bet limits, and any game restrictions. Some bonuses might seem generous at first glance, but their T&Cs could reveal a different story. It's always crucial to be well-informed before cracking on.
Selecting the Right Games
Your choice of casino games is pivotal when it comes to meeting wagering requirements. It's essential to understand that not all games contribute equally. While pokies often count 100% towards the requirement, table games like blackjack or online roulette might only chip in a fraction, sometimes as low as 10%.
This discrepancy is where the casino's terms and conditions become critical. Sometimes, upon accepting a bonus, you might be restricted to playing only the casino games chosen by the casino until the wagering is fulfilled. This can be a setback if the selected games are unfamiliar or simply not to your taste.
A bonus that seemed tempting might end up feeling like a chore. Therefore, always be well-informed and choose games you're familiar with and enjoy, ensuring a fulfilling gambling experience as you work through the requirements.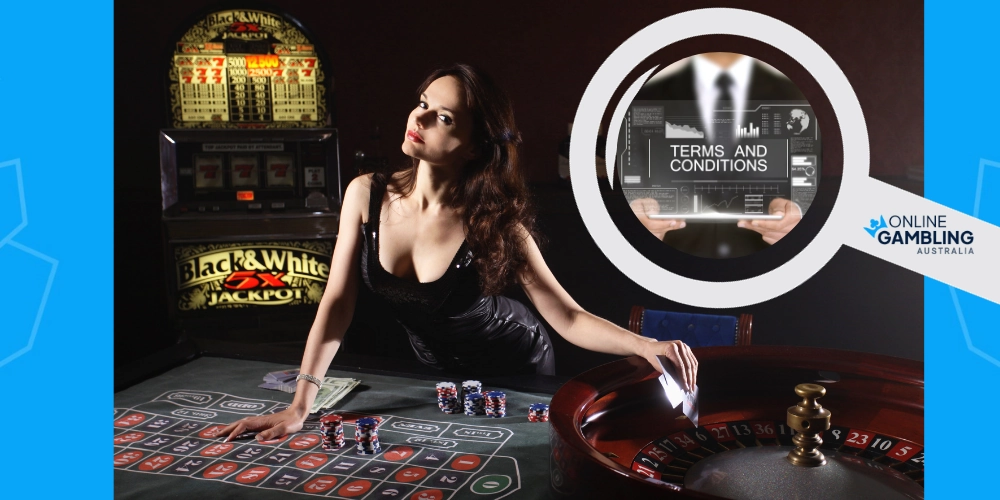 Playing it Right
Strategising your gameplay is vital. Games with a high Return to Player (RTP) percentage can be your best allies, as they typically offer better payouts in the long run. However, always remember that online casinos employ Random Number Generators (RNG) to guarantee fair outcomes. This means that while strategies can guide your gameplay, there's no sure-fire way to predict the next game round.
RTP & RNG
RTP: Return to Player, is a metric that shines a spotlight on the potential profitability of a pokie over an extended period. It's expressed as a percentage and gives players a hint about how much they might expect to win back from their bets in the long run. For instance, if a pokie has an RTP of 95%, this suggests that for every $100 wagered, the game might return approximately $95 over time.
However, it's essential to understand that RTP is a theoretical figure calculated over millions of spins. So, while it provides a guideline, short-term play can yield results that deviate from this percentage. When evaluating the value of a bonus and its associated wagering requirements, a game's RTP can be a critical factor. A higher RTP might make it somewhat easier to fulfil these requirements as it represents a higher return rate.
RNG: The Random Number Generator, is the unsung hero ensuring fairness and unpredictability in every online casino game. It's a complex algorithm working behind the scenes to generate thousands of number sequences every second. When you press 'spin' on a pokie or receive a card in blackjack, the RNG determines the outcome.
This system guarantees that each game round is independent, ensuring that past results don't influence future ones. It makes every player's experience unique and ensures that everyone has an equal chance of winning. With regard to wagering requirements, the RNG means you're relying on chance and not predictable patterns. As such, while a strategy can guide your gameplay, luck remains a significant factor in meeting these requirements.
In summary, while RTP offers a glimpse into a game's potential paybacks, RNG ensures every game is fair and unpredictable. Both elements play a crucial role in the online casino landscape and significantly influence how players approach wagering requirements.
Bonus Bet Limits
When using a bonus at an online casino, one of the vital conditions to be aware of is the bonus bet limit. This term dictates the maximum amount you can bet per spin or game round using bonus funds. Why is this significant? Betting above this limit can result in the forfeiture of your bonus and any winnings derived from it.
These limits are implemented by casinos to prevent strategies that might give players an undue advantage and to ensure that bonuses last longer, enhancing the player's experience. By adhering to these limits, you safeguard your bonus and potential winnings.
Select Casino Games with Low House Edge
The house edge is a term used in gambling to describe the mathematical advantage that the game, and thus the casino, has over the player. A lower house edge means that over time, the game returns more to the player compared to one with a higher house edge.
Selecting casino games with a low house edge is strategic for players, especially when working through wagering requirements. It increases the likelihood of maintaining or even growing your bankroll as you play.
Games like blackjack, certain versions of video poker, and baccarat often have a lower house edge compared to many pokies. By opting for these games, you give yourself a better chance to come out ahead.
Frequently asked questions
What is the main purpose of wagering requirements for online casinos?
Wagering requirements serve as a protective measure for online casinos. They ensure that players don't merely sign up, claim a bonus, and then withdraw it without engaging in gameplay. These requirements strike a balance between giving players added value and ensuring that casinos aren't exploited.
Are wagering requirements standard across all online casinos?
While the concept of wagering requirements is common across online casinos, the specific terms can vary. Each casino sets its own requirements based on its policies, bonus types, and target audience. Always check the specific terms at each casino.
Is it possible to opt out of a bonus if I don't want to meet the wagering requirements?
Yes, most online casinos allow players to opt out of receiving a bonus. If you feel the wagering requirements might not suit your playing style, it's often best to decline the bonus and play with your own money.
Are there any games that can fast-track the completion of wagering requirements?
Pokies often contribute 100% towards wagering requirements, making them a popular choice for clearing bonuses. However, always check the game contribution percentages in the casino's terms, as some pokies might be excluded or contribute less.
How do time limits associated with bonuses work?
Some bonuses come with a time restriction, meaning players must meet the wagering requirements within a set period, be it days or weeks. If the requirements aren't met in this timeframe, the bonus and any associated winnings might be voided.
Are wagering requirements only tied to bonus money or also to the deposit amount?
Some online casinos apply wagering requirements solely to the bonus amount, but others might include both the bonus and the deposit amount. This can significantly change the total amount you need to wager. For example, if you deposit $50 and get a $50 bonus with a 20x wagering requirement on the bonus and deposit combined, you'd need to wager $2,000 in total ($100 x 20) instead of $1,000 ($50 x 20). Always verify the specifics in the terms and conditions to know exactly what you're agreeing to.
Can I have multiple bonuses active at the same time?
This varies by casino. Some casinos allow for multiple bonuses to be active, but they might have a hierarchy in which they're used. Others require players to complete one bonus before activating another. Always check the specific bonus policies of your chosen casino.